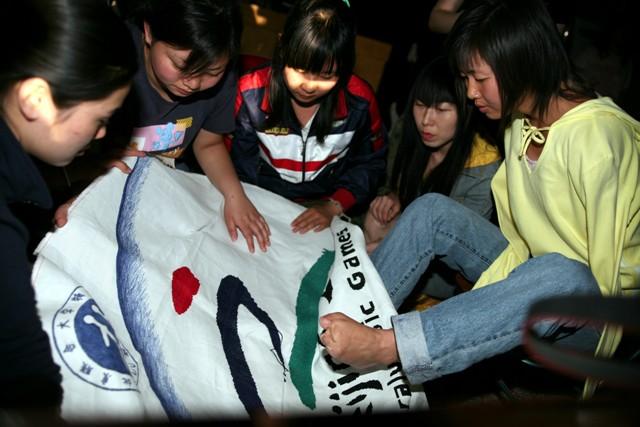 I am a girl without arms. When I was three years old, I tried to pull back a friend who was being electrocuted in an attempt to save her. As a result, the electric shock hurt me, and I lost my arms. My family took me to receive treatment, which cost a lot of money. This unexpected cost of treatment caused my family to incur a lot of debt. The debt became such a strain on my parents that they started to not accept me and to blame me for the medical problems I could not control.
My parents eventually stopped letting me play with other children, only to let me become an ominous monster in the eyes of others. I did not understand the sudden but drastic change in my life or why, I started to be depressed.
Since I do not have arms, I cannot use my hand to wipe my nose, but instead I bow my head to wipe my nose on my pants. I started to imitate normal hand actions with my feet. Although my parents saw that I could do most things with my feet, they knew that I could not help them with farm work.
This inability did not stop them from pushing me to learn and to find a good job in the future. My mother even took me to the community leaders and begged them to allow me to receive education. Sadly, these supposed leaders denied our request and revealed that, to them, disabled people only cause trouble for the community. After hearing these words, I felt very sad and hurt. My parents did everything they could to send me to school.
Finally, I was able to attend school, but it was not an ideal situation. The teacher assigned me to the very back of the classroom, did not give me any books, and failed to check any of my schoolwork. No matter how hard I worked in school, my papers always ended up in the recycle bin. Since I continued to study against such adversity, my grades were consistently number one or two out of my entire class.
My parents were very proud of me and I got along with friends from school, but something inside me really longed to go home. However, I was afraid of telling my parents about my feelings. After graduating from middle school, I told my parents that I no longer wanted to attend class or do anything at home. These feelings pushed me into isolation, which caused my parents to worry about me and my future. One day, I wanted to get out of bed, but my legs would not allow me to walk. I thought: Am I really such a useless person?
Mother always cared about me and showed this love by continuously giving me massages. As time passed by, slowly I discovered that the world is beautiful again! An outsiders love and support changed my depression to cheerfulness, which changed my perspective to see life in a positive light. As I continued to overcome the obstacles in my life, I began to see how my own experiences could help others with disabilities. I have done traditional charity work in the past, but I have always had a passion for expressing myself through artwork. At first I thought this would not work due to my disability and the number of students who are professional artists. I am so small and unprofessional, what can I do?
This attitude changed after stumbling upon Rainbow Mission. I learned that Rainbow Mission found ways to serve the disabled through creative means. If we can do a little each day, we can make a change. I started to talk with friends and discuss what we could do. In 2010, we started a studio called "Language of the heart" (LH) in the hope of expressing our own voice and feelings while planting a seed of hope in others. LH has chosen to train the deaf students in the high-end job area of animation, leveraging the booming animation business and the visual sensitivity of deaf individuals.
The design team without sound uses their brushes to pass more and more messages to and have more exchanges the world, and ultimately helps more families with disabled individuals living in poverty. They would like to encourage disabled children to get out and return to society.
Our goal is to help poor families and people with disabilities to express themselves in ways that encourage others. The long-term goal consists of enabling the disadvantaged to return to society by the design team providing on the job training. We feel that through everyone's effort, our organization can make a lasting difference in people's lives. The little plant under the rainbow will one day become a lush forest. Please pray for our dream.