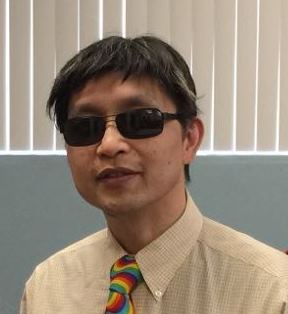 Dear RM friends,
I'm writing to you from Asia. Because of some critical family issues, I had to step down from the leadership role in RM and move back here. I miss my colleagues and you all indeed. I'm very confident that the next leadership will bring RM to even higher grounds in God's hand. Even though I'm away, I'm still part of the rainbow family.
Talking about the Rainbow family, one of our visually impaired college students called me and said that she felt like she feels so connected to us. She always asks, "When is Uncle Roland coming again?" Other students, teachers and friends keep telling me how much they have been encouraged by Rain, Kery, Seb, Peggy's recent visits because they know how much they truly care. They bring beautiful music and tidings from afar. They go all the way to visit them in person. Even though there was an urgent sponsorship application that came in late, they were so assuring and willing to try their best to do something for that student to make sure that he does not drop out of school due to financial hardship.
There is just so much love, hope and potential in the effort ahead under the leadership of the board and Rain. So please keep remembering, keep supporting and keep discerning about joining these service trips of love. I'm sure Rain and Kery can tell you a lot more about their plans and schedules.
So far, I've been blessed to spend more time with my family. Among other things, my eldest brother (who is practically my father figure), has had some medical challenges recently. We've had long and meaningful talks over ham macaroni soup noodles and Hong Kong milk tea. Being the youngest of seven, I'm somehow the listening ear and comforter for him and other siblings.
Nowadays, I spend some time in Hong Kong and some time in China. The under-privileged, the marginalized and the disabled that God has led me to befriend are still very much in my heart. Now that I'm closer to the field, I have made myself available to God and to RM to be next to these people and minister to them even more.
In the meantime, as part of the Rainbow family, please watch out for RM's postings about the exciting things God is doing among those who are disadvantaged. I'm planning to come back for the Rainbow Missions dinners and hope to see you there too.
~~~ By Peter Wong ~~~
Peter 的信
親愛的彩虹工程朋友,
我在亞洲地區寫信給你們。因為一些家庭危機,我需要從彩虹工程的領導層退下來,移居回亞洲。我十分想念我的同袍和你們,深信接續的領袖們會在神的恩手引導下帶領彩虹工程更上一層樓。雖然我在遠方,我仍是彩虹大家庭的一分子。
談到彩虹大家庭,一位視障大學生告訴我,她感到與彩虹工程是連在一起的。她常問:『Roland 叔叔什麼時候再來。』其他老師、學生和朋友常告訴我,彩虹同工最近的到訪,真摰的關懷,從遠方帶來美妙的音樂和好消息與他們分享,又親自探訪他們的家,都讓他們很受鼓勵。甚至有一份助學申請表在截止後才寄到,他們仍然願意盡力幫忙,使那位學生不會因經濟困難而要退學。
在董事會和陳老師的帶領下,彩虹工程會繼續這充滿愛、盼望與潛力的服事,請你們繼續記念、支持和考慮是否可參加愛的服務隊。我深信彩虹同工能給你更多資料和日期安排。
到目前為止,我都因與家人相聚而蒙福。我的長兄(也是我父親的形象)最近身體有一些毛病,我們一邊吃火腿通粉和喝港式奶茶,一邊談了很久,都是很有意義的對話。作為七兄弟姊妹中最小的一個,我成為了他們的聆聽者和安慰者。
現今我在香港和中國兩地穿梭,我心裡仍常記掛著神帶領我認識的,那些弱勢的、被社會邊緣化的和殘障的朋友。今天我很接近工場,我願意神,並彩虹工程透過我去接近這些朋友,更多服事他們。
作為彩虹大家庭的一份子,請大家留意彩虹工程公佈和分享有關神如何在這些弱勢社群中所成就的奇妙作為。我將於週年晚宴中與大家見面。
~~~ By Peter Wong ~~~