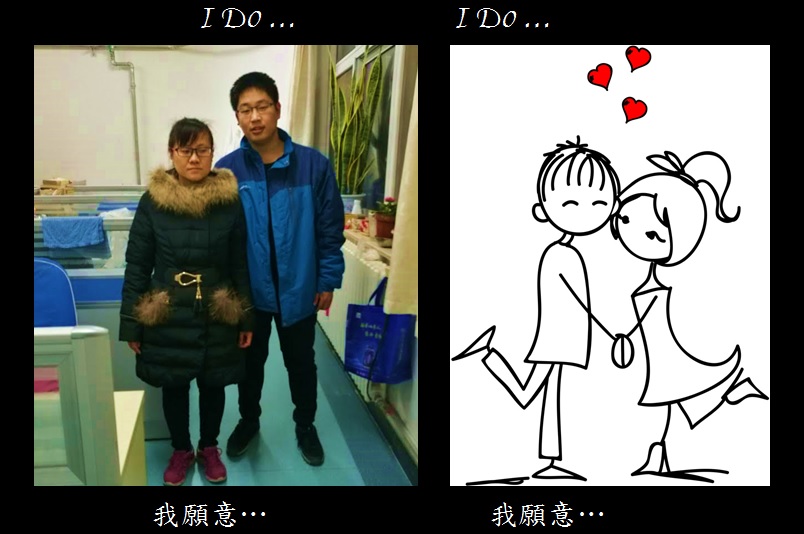 Today is Valentine's Day, a very important day for the lovers and married couples! We all wish to receive presents from our other half. Sending flowers, sending chocolates or even organizing candle night dinners are some of the ways to show your love. Some people may use this special day to express their love, hoping they can win one's heart.
Every love story does not only happen on romantic and joyful Valentine's Day. Stories that stand up to challenges and trials are particularly admirable. Two students from Rainbow Missions, who are visually impaired, would like to share their love story.
My name is Yuen. I became visually impaired after an illness eight years ago, I am now a doctor of Chinese massage. My girlfriend, Ying, is also a Chinese massage doctor with visual impairment. To talk about our relationship, I have to start at the beginning when I asked her for help. At that time, my vision had just started to get worse. I went to the same university she went to for the professional degree of Acupuncture and Massage. Due to the lack of assistive devices, I was unable to read the words from the books. I was not good at Braille. Thus, my learning was very difficult at that time. I could only ask my classmates to speak out the notes for me or using the screen reading software to record information on the computer. When I asked for assistance, Ying immediately accepted my request gracefully. This was our first interaction. She gave me an excellent first impression. Although she cannot see, just like her name, she has a crystal-clear heart. Hereafter, we had a few chances to help out each other in life and study. Since then, I have been deeply touched by Ying's gentle, kind and thoughtful character. On September of 2012, I finally expressed my love to Ying and she became my girlfriend. During our college life, since I had a lot of debt from my previous eye treatment and Ying's family's financial situation was not good either, I needed to do part time jobs while I was studying. We built each other up and supported each other in time of need. Although life was hard, we were very happy and content. We also had a great progress on our academic achievements. I was a straight A student while I was in college and Ying also became the top student in her class. Once we graduated with distinction, we were invited to work for different medical institutions. As new recruits, we worked conscientiously and diligently and finally won the respect disabled people deserve.
After we had entered the work force, the feelings between us were still stable and sweet. However, we started to face many challenges. First, my family started to put pressure on me. My parents are farmers. I have a brother who is seven years older than me. He also became visually impaired after a car accident when he was fourteen years old. Through the traditional concept of rural people in my village, they all think that a visually impaired person is a burden to their family. They commonly use the insulting words "blind man" to call him. The villagers' slanderous gossip made my parents' life very stressful. They did not respect my parents anymore. They were ridiculed. Based on my family background, with two sons under one roof, my parents refused to accept an additional visually impaired person to be my girlfriend. Like many people believe, my parents thought that Ying, who is completely blind, would become my burden and our life would be very difficult. They would rather ask me to find a girl to marry who was physically disabled, to make up for my visual deficiencies, instead of seeing Ying and I walking in the darkness with difficulty.
In addition, I have my own concern as well. Ever since I started working, I always asked myself if Ying would be a good fit as my life partner. Emotionally, we love each other, support each other and have a strong desire to live together. As a person who is visually impaired, our viability is relatively weak. After long deliberation, I even thought that we were irresponsible to each other, to our future children and even to our parents if we got married. I had experienced many sleepless nights, imagining what our life would be like in the future: Whenever Ying was sick, my heart filled with deep remorse since I had to work and was not able to be with her. I also felt helpless since she cannot go to see a doctor alone. Whenever kids need help in their studies, I feel guilty because my weak eyesight has blocked me to help. Whenever I go out, I feel hopeless because I cannot correctly identify the location. There are so many big and small problems always surrounding me. These things have given me a lot of pressure and made me feel breathless. I once wanted to give up. I think Ying should deserve a better partner than me. However, whenever I have this feeling, my heart will reluctantly not to let her go. We have been together and helping each other for years. These are all sweet moments in our life. I can always feel Ying's love inside my heart. She is like a bright light guiding me through the darkest night, showing me my way. After a long struggle in my heart, I still want to choose the unforeseen road ahead. I deeply understand now that there is nothing more important than someone who you love and who loves you. As long as we rely on each other, we should be able to face any challenges in our lives. As long as I work hard, master my skill well and bear a man's responsibly, I can create a lot of value, overcome obstacles, and have a bright and beautiful future ahead.
When I finally decided that Ying will be my partner in life, I told my parents about our story. Not in surprise, my parents strongly opposed our decision to be together. For months following, I have eagerly explained to my parents about Ying's valuable character; especially how she treats elderly, how hardworking she is and how open-minded she is on things, etc. At the same time, Ying and I try to understand each other more and learn why my parents oppose our relationship. In a short period of time, Ying has learned to cook and go to work alone so that she can show my parents her independence. As time passed, my parents slowly accepted Ying.
Because of the village's old Chinese tradition, we don't want our marriage to bring even more burdens to our parents. We decided not to have our wedding banquet at my home. Ying's parents also understand this. As of now, we have paid off all our debts. Our relationship is also stable and both of our parents have recognized us to be together as a couple … to start a new blessed life together. My hope right now is to find a sacred and solemn place, at my life's most important moment, to give Ying an unforgettable wedding. There I will let her hear me sincerely say "I do" to take her as my life partner.
視障人士在戀愛和婚姻中的挑戰
今天是情人節,是戀愛中的情侶和大多數夫婦的重要日子,我們都會希望收到伴侶的禮物,不論是送花、送巧克力、或是吃大餐,都是表示愛意的方法,也有一些人選擇在情人節向自己喜歡的對像表白愛意,渴望得到對方正面的回應。
每一個戀愛故事都不會只停留在情人節的浪漫和喜悅裡。 經得起挑戰和考驗的故事特別令人敬佩。彩虹工程有兩位受助的視障大學生,藉此佳節,我們很想跟大家分享他們的戀愛故事:
"我的名字是源,八年前因病患成為了一名視障者,現在是一名中醫推拿大夫。我的女朋友叫瑩,也是一名視障中醫推拿大夫。談起我們兩人的戀愛經歷,還要從我第一次找她幫忙說起。那時的我剛剛成為一名視障者,進入她所在的大學學習針灸推拿專業。 由於輔助器具的缺乏,我看不到書本上的文字,也不擅長盲文,學習非常吃力。 我只能求助於同學幫我讀筆記,利用屏幕朗讀軟件在電腦上記錄重點知識。當我提出求助申請時,文靜的瑩很快回應了我的請求。這是我們的第一次接觸。我對她的印象很好,雖然她看不見,但是正如她的名字一樣,她有一顆晶瑩剔透的內心。隨後,我們在生活學習上又有多次互相幫助。在我們交往的過程中,瑩的溫柔善良、善解人意深深打動了我。 2012年9月,我向瑩表白愛意,她成為了我的女朋友。大學期間,我因為之前治療眼睛欠下了很多債務,瑩的家庭經濟狀況也不是很好,我一邊學習一邊在外兼職。我們相互支持,彼此鼓勵,雖然生活比較艱苦,但是內心很快樂。 戀愛的同時,我們的學業也取得了很大的進步。 大學期間,我所有科目成績幾乎全A,瑩也是名列前茅。 大學畢業後,我們憑藉優異的成績順利進入了不同的醫療機構工作。 踏入工作崗位以來,我們兢兢業業,勤勉不輟,贏得了作為殘障人士應有的尊重。
步入工作崗位以後,我們之間的感情依舊穩定甜蜜,但已不再純粹,我們面臨很多現實的挑戰。首先是我家庭的壓力。父母都是農民,哥哥比我大7歲,在他14歲的時候因為交通事故眼睛受到傷害,也成為了一名視障者。在一般農村人的觀念裡,會將視障者視作家庭的累贅,並且會用侮辱性的"瞎子"來稱呼視障者。村人的風言風語使得我父母心裡上承受了很大的壓力,不過還好,作為二兒子的我是他們的驕傲。我從小就是我們當地學習最好的,上的大學也是同齡人中最好的。大家都認為我將來會很有出息,也為父母贏得了很多尊重。然而,自從我視力受到嚴重損害以後,一切都改變了。由於傳統不良觀念的影響,村裡人認為我家上輩子罪孽深重,是不祥的家庭。這些閑言閑語讓我父母心裡很痛苦,很多人也不再尊重,更多的是嘲諷和鄙夷。基於這樣的家庭生活背景,在家裡已有兩個盲人,我父母接受不了我的戀愛對象也是盲人的現實。與很多人的觀念一樣,我父母認為全盲的瑩會成為我的累贅,認為未來我會生活得很艱難。父母寧可我找一個有肢體障礙的結婚對象,以彌補我視力的缺陷,也不願看見我們兩個在黑暗中緩步難行。
其次,是我自身存在的問題。工作以後,我經常捫心自問,瑩是否就是我一生的伴侶。從感情上講,我們相親相愛,彼此扶持,有共同生活的強烈意願。但是作為視障者,我們的生存能力相對較弱,我深思熟慮我們的結合對彼此是不是負責任,對未來的孩子及雙方的父母是不是負責任。我曾經整夜整夜失眠,想象我們以後的生活將會怎樣:每當她生病時,我都因為自己上班不能陪在她身邊而深深自責,也為她不能獨立出行看大夫而感到無奈;每當孩子需要教育輔導時,我會因自己視力微弱導致的力不從心深感愧疚;每當有出行需要時,我也會因為不能準確找到位置而彷徨無助。生活中太多太多的問題無時無刻不困擾著我,我內心極度痛苦,感覺身周的壓力壓的我無法呼吸。我曾經一度想過放棄,一度自認為她需要一個生存能力更強的伴侶。但是,每當我有這種想法時,我的內心是如此的不捨。數年的相互守望、彼此依靠,是如此的甜蜜溫馨。她晶瑩剔透的內心一直溫暖著我,如同暗夜的明燈伴我前行,令我難以割捨。經過長時間的內心掙扎,我還是選擇了未來的艱難挫折。我深刻認識到,人生一世,有一個知心愛人比什麼都重要。只要我們彼此依靠,即使再多的困難我們也無所畏懼。只要我勤學苦練,鑽研技術,努力工作,承擔起一個男人的責任,就能創造更多的價值,就會克服各種困難,就會創造出更加美滿的生活。
當我下定決心與瑩攜手渡過這一生以後,我就告訴了父母我和瑩戀愛的事實,不出意料地招致了他們的強烈反對。在很長的一段時間內,我堅持不懈的向父母解釋瑩的可貴品質,特別是孝敬長輩、勤儉持家、心胸豁達等。與此同時,我還跟瑩認真溝通,使瑩認識到父母反對的原因。瑩自己也很努力,在短短時間內就學會了自己做飯、上班,也切實向我父母表現了她自立的能力。就這樣,透過我們長時間的努力,父母也逐漸減輕了顧慮,從內心慢慢接受了瑩。
由於農村不良觀念的影響, 我們不希望我們的結合給父母再次帶來心理上的創傷,所以我們並不打算在家裡舉行婚筵,這也得到了瑩父母的理解。目前的我們已經償還了所有的債務,感情穩定,並且得到了雙方父母的認可,即將邁入婚姻的殿堂,揭開幸福生活的新篇章。我現在最大的願望就是在一個神聖而又肅穆的場所,在這人生最重要的時刻,給瑩一個刻骨銘心的婚禮,向她鄭重其事的說一聲"我願意"。"