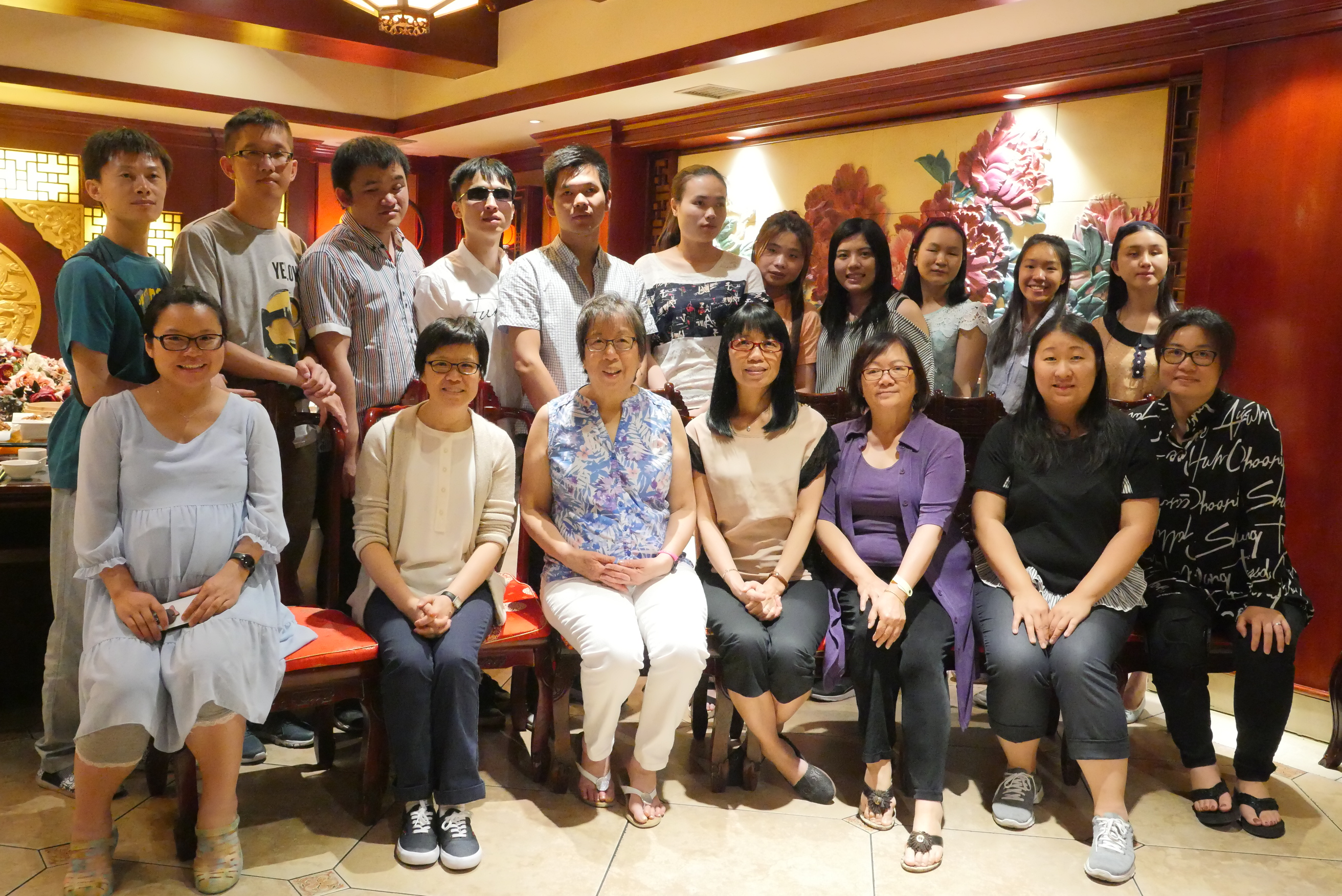 This is my third year making service trip to China. My experience and feelings vary every year. Since I have seen many visually impaired students in each annual service trip, and we often communicate and chat online, I look forward to every service trip to China as if I am returning to see my hometown relatives.
June this year, a total of 11 of us traveled from Seattle or Hong Kong to Northeast China for an 8-day service trip. Among us were family counselor, social worker, occupational therapist and behavioral analyst, each taking a role in respective service groups. We were divided into three service groups – autism center group, visually impaired persons group and counseling visit group. I belonged to the visually impaired persons group. We set out every day to visit the visually impaired college students and massage shop workers.
In our first evening, we had a graduation celebration dinner with four visually impaired students whose education costs were sponsored by Rainbow Missions. I have known them for 5 years, and they were like my younger siblings. After enjoying a good dinner, our service team sang the hymn of "Footstep" for these graduates. Each part of the lyrics carried our heartfelt messages, "Your footstep leads my footstep, one step and another step, we are blessed, in every step, I follow You closely on this blessed path ……." The hymn tells that God is leading my footsteps, to move past the valley of death onto the road of blessings. We have walked alongside these visually impaired students as they walked a more difficult path than the healthy students did, but each step taken was a progress on the road of blessings and life change.
That evening, each visually impaired graduate shared their gratitude to Rainbow Missions and the challenges they had faced as students. Three of them studied Chinese medicinal massage therapy. After five years of diligent learning, they attained qualification in this field that enables them to practice in hospital, make stable income and improve their living standard. They have a better future than the one who needs to wait for customers in a massage shop for the whole day. Another student majored in music. She is Pun Pun, a quiet girl who normally wouldn't talk much. However, that evening, she shared her experience in choosing her major, and her inner struggles. This allowed me to understand and know her more. Unexpectedly I found that she loved to laugh, and she talked eloquently in a mature manner. After sharing, upon our request, she performed to show us different singing styles. Though she was small in size, her voice was strong and loud, shocking the entire room with beautiful melodies. I couldn't understand the language she sang in, but my heartstring was stricken, my tears streamed down, and I felt pride for her parents. Pun Pun was the champion of the music college's singing contest! Pun Pun came to know Rainbow Missions while she was in the school for the blind six years ago. It was the singing skills sharing and demonstration of a music teacher in that year's Rainbow Missions service team that enlightened and inspired Pun Pun to choose music major in college. After graduation, Pun Pun hopes to return to the school for the blind to bless the students by teaching them music.
Xiao Gang also shared a decision he made as a student. Going to college has been Xiao Gang's wish since very young. However, during his teenage his vision began to deteriorate and he eventually transferred to the school for the blind. He held on to the belief that he could still have the opportunity to go to college if he worked really hard, and he finally succeeded and got into college. Yet, after one year, changes hit Xiao Gang's family and it lost the ability to pay his tuitions. By coincidence, Xiao Gang learned about Rainbow Missions, and he eventually became our sponsored student. He excelled as a student and he always positioned at the top three. In his junior year, he was the top student and the college awarded him a scholarship. However, the college did not understand overseas sponsorship and since Xiao Gang received help from Rainbow Missions, they cancelled his scholarship. Xiao Gang found it unacceptable and disappointing. He could have decided to cover up his Rainbow Missions sponsorship, but to him denying receiving help from Rainbow Missions was to wipe away the love he received from his Rainbow Missions uncles and aunties. For this, he chose to report the help from Rainbow Missions. Xiao Gang did not regret this decision. He became even more diligent in different learning and pursuance, hoping to be able to repay society one day through helping needy people, following the footstep of his Rainbow Missions uncles and aunties. Recalling the time when he coincidently learned of Rainbow Missions and how he maintained the relationship over the years, he cherishes the experience and his heart is moved. He looks forward to our annual visit with a thankful heart, treasuring the contribution of Rainbow Missions uncles and aunties made to his educational achievement.
As I witness Xiao Gang's growth and change, my heart is touched and satisfied. This is the fruit of our walk with them step by step. I hope that we can be like what the hymn of Footstep describes: every step taken is following God's guidance, alongside with the students on the path of blessings, bringing to us and to them courage and faith.
Rainbow Missions sincerely invites you to walk with us. Open up your life, live out the love in your heart, become their blessings and walk with them. You are welcome to contact us with email : rainbows@therainbows.org, to obtain more information. If you wish to sponsor a student, the tuition is US$500 per school term. You may contact Kery Wong, or mail a check to Rainbow Missions, PO Box 1526, Renton, WA 98058. Please state "sponsorship" and your email address on the check.
這是我第三年前往中國服侍,每一年的經歷和感受都不一樣。由於每年與很多視障學生見面,也在微信常常與他們溝通和交談,所以每次到中國服務,就好像回鄉探親一樣,十分期待。
今年六月,我們十一人從西雅圖和香港前往中國東北,共有八天的服務旅程。隊員中有家庭輔導員、社工、職業治療師和行為分析師,各人都有自己的崗位和服務組別。我們分有三組-自閉症中心組、視障人士組和輔導探訪組,我屬於視障人士組,每天出發負責探訪視障大學生和按摩店員。
第一天晚上,我們與四位視障大學生有畢業慶祝晚餐,他們都是彩虹工程資助的學生。我已認識了他們五年,他們好像我的弟弟和妹妹。享受了一頓豐富晚餐後,服務隊為畢業生獻唱一首詩歌「腳步」。歌詞中的每一句都代表著我們的心意,「你的腳步帶著我的腳步,一步一步都有祝福,每個腳步,我要緊緊跟隨走在蒙福的道路…」。詩歌述說神的腳步帶著我的腳步,走過死蔭幽谷,步向祝福。我們也是陪同這些同學走過比健全人士難行的路,但所走的每一步,都是邁向祝福和生命改變的道路。
當晚,每位視障畢業生分享了他們對彩虹工程的感謝之心和在學時期的挑戰。他們其中三位修讀中醫推拿,經過五年努力學習後,在中醫推拿的範疇中得到認可資格,可在醫院做大夫,有穩定收入,生活可以有很大的改善,與其他只能在按摩店整天等待客人的視障人士相比,有很好的前程。另一位同學主修音樂,她名潘潘。她較為安靜,不多說話,但那天晚上,她分享了選科的經歷和她內心的掙扎,使我更了解她和認識她。原來潘潘是一位很愛笑的少女,說起話來十分得體成熟。她分享完畢後,在大家的邀請下表演了不同唱腔,她雖然個子瘦削,但聲音響亮,美麗的旋律震撼了整個房間。雖然我聽不懂她所唱的是什麼語言,但我的心靈被歌聲牽引著,不禁流出眼淚,也為她的父母感到自豪。她原來是音樂學院歌唱比賽的冠軍呢!六年前潘潘還在盲校時,已經認識彩虹工程,那一年的隊員中有一位音樂老師。那位老師在一次的活動中分享和示範唱歌的技巧,啟發了潘潘,也令她決定要修讀音樂。潘潘畢業後希望回到盲校做音樂老師,祝福她的學妹學弟。
小剛亦分享了他在學時期的一個抉擇。上大學是小剛從小的心願,但在十多歲視力開始下降時,便轉到盲校上學,他知道只要不斷努力,是有機會上大學的,他最終考上了。入學一年後,家裡情況出現變化,沒有能力為他交學費。後來在一個偶然的機會,小剛認識了彩虹工程,成為了彩虹工程的受助學生。小剛成績十分優異,經常是前三名的高才生。大學三年級時考獲第一名,得到學校的獎學金。但由於他接受彩虹工程資助,學校對海外資助貧困學生不了解,所以他的獎學金被取消了。小剛心裡不服氣,也很失望。其實他可以選擇隱瞞學校有關彩虹工程的資助,但他覺得如果要在別人面前否認彩虹工程對他的幫助,就是抹殺彩虹工程叔叔阿姨對他的愛,所以他選擇了如實申報。小剛沒有後悔作了這個決定,反而更努力在多方面學習和尋求,希望有一天能回饋社會,像彩虹工程的叔叔阿姨般幫助有需要的人。他回想起那次偶然認識彩虹工程,並維持這麼多年的關係,他特別珍惜,也很感動,每年都期待我們前往探望他。他也很感謝和銘記彩虹工程對他的幫助,以至他今天能學有所成。
當我看到他的成長和改變,我的心裡都很感動和滿足,這都是我們一步一步與他們同行的成果。盼望我們能像「腳步」這首詩歌,每一步有神的帶領,與這些同學一起走祝福的道路,帶給我們與他們勇氣和信心。
彩虹工程摯誠邀請你與我們一起同行,敞開你的生命,把心中這一份愛活出來,成為他們的祝福,與他們同行。歡迎你們致電郵 rainbows@therainbows.org 索取更多有關資訊。若你希望資助學生上學,每學期的學費是$500美元。請聯絡Kery Wong,或把支票寄往Rainbow Missions, PO BOX 1526, Renton, WA 98058,請註明「助學計劃sponsorship」及電郵地址。謝謝!