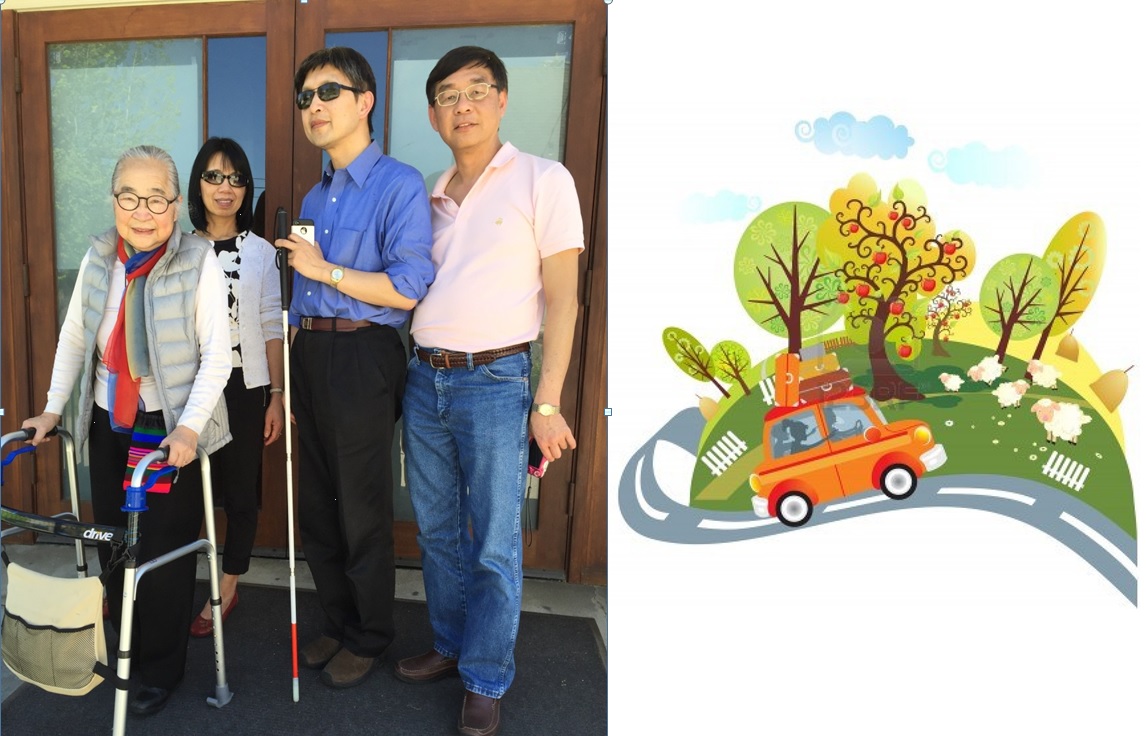 In our earlier blog, we talked about how our Rainbow Missions sharing team hoped that we would enjoy the sun and warmth during our two weeks sharing trip in California. Guess what? We brought the Seattle rainy winter to Northern California for the week instead. But we got a lot of warmth from people around us. We were happy that God provided the water that Californians need. And we had a fruitful and Fruit-ful California Trip!
Bosco, Peter, Pastor Rain and Mrs. Chiao returned to Seattle safely on March 21st. The sharing trip was very fruitful and fruit-ful. It was very fruitful because we know God has touched the hearts of many friends to care for the people with disabilities in China. It was fruit-ful because we ate a lot of fruit, especially the sweetest oranges grown from the backyard of our hosts, Philip and Sandy in Los Angeles. Our eyes glowed as none of us grow oranges in Seattle. Philip and Sandy also gave us a lot of snacks when we left for San Jose on the last day of our sharing in Los Angeles. Yao-chung and Vivian, our hosts in Northern California, also took very good care of us especially they borrowed a shower chair for Mrs. Chiao.
Our team shared at 27 different occasions such as Sunday services, prayer meetings, fellowships, bible study group and special meetings. We were touched by Bay Area Chinese Bible Church. They opened most of their worships, fellowships and schools for us to speak. Rain was touched by Great Shepherd Baptist Church and that the church has very limited resources but gave generously to support Rainbow Missions' work in China. She was also impressed by EFC San Gabriel Church and she knows that they will be rewarded because each of them gave two coins like the widow when they don't have much. At the House of Christ Church in Saratoga and a study group at Burlingame, we were touched by the acts of faith giving and prayers from the seniors. We were humbled. Los Angeles Chinese Alliance Church, San Gabriel Valley Alliance Church, Fountain Valley First Chinese Baptist Church and Chinese Alliance Bible Church were so generous to open many opportunities for us to share. Chinese Bible Missions Church is one of our long term partners and their mission support is always strong. If you go to one of these churches, please say thanks to the leadership of the churches for us.
Our visit to Los Angeles Herald service centers gave us a lot of inspirations. They provide family clinic and dental services to the Chinese communities around them. Patients pay according to their financial abilities instead of a standard fee. Doctors and dentists have loving hearts to each patient. That is how we should serve our friends in China with a humbled and loving heart.
Many people told us how they were encouraged by our sharing. We would say the same thing too. We were encouraged by them with their willingness of opening themselves to give their efforts in China by visiting the people with disabilities there and give them encouragements.
Bosco enjoyed driving the team to different places and told the team about his abundant travel experiences and his dating life. Our minivan was full of joy with the joyful heart of Mrs. Chiao although we had a couple of car issues on the road, such as a brake light bulb was broken and the under-board fell off. We didn't worry too much because we knew God is in control. Mrs. Chiao has a lot of fans everywhere and they all love to listen to her speeches. Peter was always excited about meeting new friends and adding people into his Facebook. Please follow our Facebook page too as we'd like keep in touch with you and hear from you there.
Before we left for Southern California, we were interviewed at DPM Radio station. You can listen to our stories at http://dpmradio.bandcamp.com/track/03162016-2 . We also met many old time friends and new friends at private settings in this trip. We were so blessed by their coming alongside Rainbow Missions.
It was a blessing and fun trip for 4 of us. We know we have blessed many people and many people blessed us too. We experienced our theme "Being empowered by empowering". We thank God for such a great experience.
Friends, you probably are aware that we have communicated a lot more lately. Yes, we plan to write 2 to 3 blogs each month so you know what is happening in us and you know how to remember us. We will also send out newsletter each month to highlights our activities.
With the warm reception, Bosco was invited back to Northern California right away to share at the fundraising dinner of ACO (Asian Culture Organization) of California Crosspoint High School on April 2. They fundraised to sponsor 3 disabled students through Rainbow Missions. Many performances by the students made the audiences laughed hysterically. There were drama, dancing, singing and a magic show. At the end of the show, many including the superintendent of the school wrote words of encouragements to the three students. Parents of some students talked to us and donated to our work in China too.
Our sharing team is planning a trip to New York and hopefully other cities. Our lifetime volunteer Mrs. Chiao will be with us again on this east coast trip. If you would like us to visit your city, please share your thoughts with your leaders, and ask them to contact us at rainbows@therainbows.org. We are more than happy to come within our capacities.
The Rainbow Missions Seattle Annual Fundraising Dinner committee just met the first time a few days ago. We will have exciting news for you later. Stay tuned.