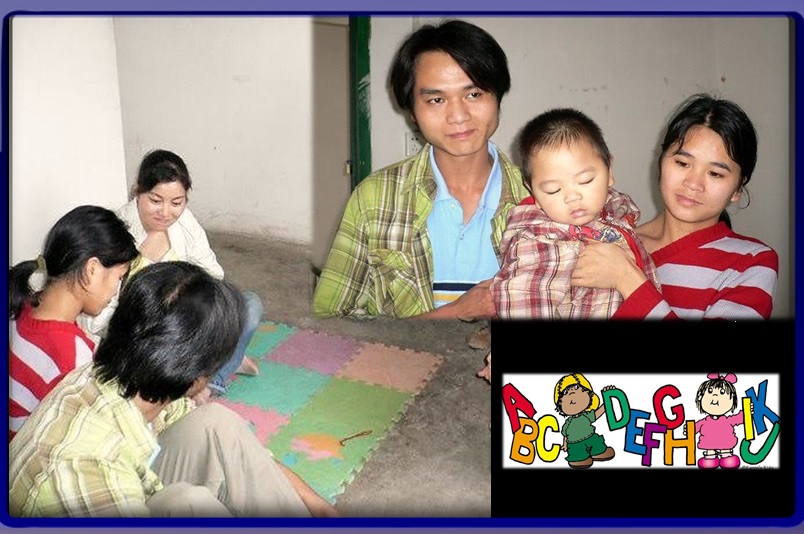 Rainbow Missions helps children with cerebral palsy in China. This is a story about a boy named Xiao-Wen whose parents are identified as ethnic minorities.
Six years ago, my wife and I first met Xiao-Wen and his parents at Angel House. It was the first day Xiao-Wen received his services. The floor was covered with colorful puzzle mats, and Xiao-Wen lay on a cushion while his parents sat next to him. When his parents teased him he opened his eyes and smiled. At a glance, he looked like a typical four-month-old baby. But while his mother kept playing with him, his father sat there deep in thought. By the time Xiao-Wen was nine months old, he still could not turn his head. Like most of the children at Angel House, he came for his cerebral palsy training and rehabilitation services.
請 按此閱讀中文版 (幫助腦癱孩子) .
Director Fan at Angel House referred this family to Rainbow Missions because of their difficult financial situation. As we chatted, we learned that Xiao-Wen's parents were members of an ethnic minority from Guangxi's mountainous countryside. It took them a whole day of travel to reach the city. In the previous two days, they completed Xiao-Wen's evaluation and registration, and had found a place to stay. Both parents were peasants with minimal education and skills. The father wasted no time in job hunting while the mother remained as the primary care giver to Xiao-Wen. They brought a small amount of money with them from the countryside, but found the cost of living in the big city to be much higher than they expected. They could not afford the cost of services for Xiao-Wen. They hoped that Rainbow Missions could help them financially.
We did not have much information on Xiao-Wen's cerebral palsy condition. His parents had a tough time upon learning about the doctor's diagnosis. Their parents tried persuading them to give up Xiao-Wen, but how could a young couple give up their first baby when he is only nine months old?
After doing much research, they heard the success stories of the cerebral palsy training and rehabilitation services offered by Angel House. Going against their parents' will, the young couple arrived at the big city with little cash and a faint hope.
Rainbow Missions strives to be accountable to the US and Hong Kong donors that all donations are going to those with real needs. We made an appointment to visit Xiao-Wen's home to understand more about their situation. On a clear day, we met with the parents and started walking to their home from Angel House. After passing by busy roads, a bus terminal, old buildings, lanes and alleys, we finally arrived at the eight-storey building. We could easily have gotten lost many times without them.
At the end of the stairs we arrived at the rooftop where this family lived. After talking to his landlord, Xiao-Wen's father led us into their room. The landlord provided two stools for us. I looked around the room, hoping to know more about this family. For those living in the US and Hong Kong, it is difficult to imagine a "home with nothing but four walls". Other than the two stools borrowed from the landlord, on the cement floor there was only an old Angel House mat, a blanket and a small pillow. This was all the furniture we saw for a family of three.
I asked the father about his work situation. He told me he waited for work every morning at a construction site, being the last one in the workers' pool. He worked only two days per week. He made about seven hundred dollars per month. But with rent costing one hundred eighty dollars each month, they could hardly make ends meet. There was no way for them to pay one thousand two hundred dollars for the monthly cerebral palsy training and rehabilitation services. Most of the time the father kept his head down. He lacked confidence, had low self-esteem and was hopeless beyond comprehension.
Xiao-Wen's mother shared her money saving tips such as going to the market around 7pm hoping to get a good bargain on vegetables at closing time. Sometimes she could get free vegetables from the vendor's "unwanted" bins. They don't mind the rotten vegetables as most of them are still edible. As I scanned the bathroom and kitchen I realized there were no utensils other than an electric rice cooker.
I was crying in my heart after witnessing their living environment and their helpless situation. At that moment, I told them Rainbow Missions would support Xiao-Wen for his services at Angel House, the full amount of one thousand two hundred dollars per month. They said "Thank You!" many times. They then requested only nine hundred dollars of financial aid every month, saying that they could contribute the remaining three hundred dollars due each month for their son's training and rehabilitation costs. We gladly honored their proposal as they would have the pride and dignity associated with fulfilling their parental responsibilities.
Three years later Xiao-Wen attended kindergarten. As a child, he might not be able to run as fast as other kids, but he can play and run around with his classmates. After Xiao-Wen could walk independently, his mother was able to work. The family's financial situation has improved. We are happy and thankful that Rainbow Missions can support this family during their most difficult times. We have kept in contact with them, talked with them often, supported them spiritually, and helped them find true peace and joy.
On April 9 – 15, 2017 Rainbow Missions has organized a one-week short term service trip to the orphanage operated by Angel House to bring love and joy to the children with cerebral palsy.
幫助腦癱孩子
我們只知道,小文的父母是少數民族,到底他們來自那一個農村,對於在中國幫助腦癱孩子的彩虹工程來說,這並不重要。
六年前,第一次與小文和他的父母見面,是他們在安琪之家接受服務的第一天。我們夫婦抵達安琪之家的時候,就被介紹與他們認識。我們還記得,大廳的地面舗上多種顏色的塑膠併圖軟墊,文平躺在軟墊上,父母坐在他的旁邊。父母逗他的時候,他眼睛張開,露出笑容。驟眼看來,他與一般四個月大的小孩沒有什麼分別。母親不斷逗著小文,讓他不停的微笑,但父親坐在那裡,滿懷心事,因為小文已經九個多月大,頭還未能轉動。大部份來到安琪之家的孩子,都是來接受腦癱康復訓練服務的,小文也沒有例外。
安琪之家兒童部主任小樊告訴小文父母,如果他們在繳交小文的康復費用遇上經濟困難,可以向彩虹工程求助。這樣,我們就與小文父母一起坐在軟墊上聊起來。原來,他們是從廣西的少數民族山區農村,用了差不多一整天的時間來到大城市才不到兩天。在這兩天裡,他們除了來安琪之家登記和作評估外,還在附近找了房子。他們倆都是農民,沒有什麼教育背景,也沒有一技之長。父親告訴我們,他翌日就要到處找工作,看看有沒有同鄉能介紹工作給他。為了小文的康復和二十四小時的照顧,母親沒法工作幫補收入。他們從農村帶了一點錢來到大城市,城市物價相對農村高出很多,帶來的錢可能不夠支付小文的康復費用,他們希望彩虹工程能在經濟上幫助他們。
小文怎樣患上腦癱,是沒法知道的,只是當醫生告知小文父母孩子是患有腦癱的時候,他們根本無法接受,小文的爺爺奶奶更勸兒媳放棄小文。一對年青的夫婦,怎能放棄已經餵哺了九個月的頭生兒子呢?他們到處打探,獲悉安琪之家曾經幫助很多腦癱小孩重過新生,他們就在自己父母的反對之下,帶了一點旅費,來到這大城市。
彩虹工程為了確保美國和香港捐贈者所捐贈的金錢是用在真正有需要的人身上,我們都會在經濟資助的同時,盡快前往他們的家庭探訪。我們相約小文的父母,從安琪之家一起步行前往他們住宿的地方。那天,天氣十分清朗,我們經過一個熙來攘往的長途公車總站,過了大馬路,便向著一幢舊樓宇走過去。樓宇的旁邊,有一條小巷,我們走進去,穿過不同的建築物,再進入幾條分支小巷,才來到一幢八層高的樓宇。若不是他們帶著我們,一定會迷路多次。
到了樓梯的盡頭,我們抵達樓房頂層,香港人稱作天台的地方,也算是九樓吧。小文父親找了房東,說了兩句話,才拿起鑰匙打開左邊的門,房東也在後面跟着我們一起進去。小文父親從房東手中接過兩張矮凳,就請我們坐下來。我很快的四處張望一下,盼望從他們口中知道更多。家徒四壁在今天的美國和香港社會仍然是難以想像,但用來描述小文的家,確實貼切不過。地板是水泥,除了剛才從房東借來的兩張矮凳之外,地上有一張十分面熟而陳舊的塑膠併圖軟墊,剛好三呎半乘六呎,是安琪之家送給他們的,這就是他們唯一的床。床上有一張棉被,一個小枕頭,我心裡想,他們三個人睡覺,就只有一個枕頭,這就是我所看見的傢俱。
我問小文父親工作近況,他告訴我,每天早上他抵達建築地盤,那裡已經有八個同鄉在等工頭聘用,若工頭認為當天需要九個或更多的人,他才有工作,現在一星期只有兩天有工作,只能賺一百四十元左右,算起來一個月也只有七百元收入,房租是一百八十元,而小文的康復費,已經是每月一千二百元。我心裡想,他們怎樣生活呢。小文的父親在與我們傾談的時候,大多時候,都是垂下頭的,那種自卑而沒有信心和盼望的心境,别人是無法理解的。
他告訴我洗手間和廚房在牆壁後面,我走進去看,只找到一個電飯鍋,沒有其他器具。小文母親說,她每天在黃昏七時左右才去市場,那時菜販趕著收鋪,就能一毛錢買到一斤菜,雖然菜會有一點破損,但仍有大部份可以吃。有時候甚至在菜販不要的菜桶免費找到一些可以吃的菜蔬。
聽了這麼多,看了他們居住的環境,和他們的自卑無助,我的眼淚在心裡流著。那一刻,我告訴他們,彩虹工程會全費資助小文每月一千二百元的康復費用。小文的父母向我們多次感謝,父親說,能否讓他們每月付三百元小文的康復費用,因為他們覺得,小文的康復費用,他們有責,彩虹工程只需每月資助他們九百元。我們不好推卻,因為我們不能剝奪他們的尊嚴。
三年過去,小文已經在幼稚園上學了,他跟其他同學玩耍,到處跑,雖然他可能永遠都不會像其他孩子走得這麼快,走得這麼好,但他得回了他的童年。母親在小文能獨立走動的時候,出外找了工作,父親工作,收入也穩定了。我們十分高興和感恩,彩虹工程能在他們一家經濟十分困難的時刻,協助他們安然渡過,我們也常常與他們聊天,在心靈上支持他們,讓他們找到真正的平安喜樂。
今年四月,我們將組織服務隊前往安琪之家所經營的兒童福利院一個星期,把愛和溫暖帶給這些好像小文的腦癱孩子。