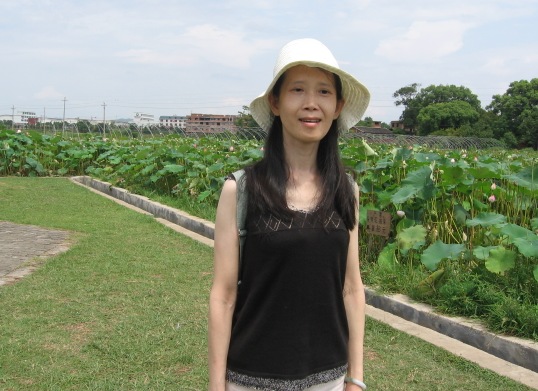 Story of LY
When I was a primary school student, my teacher asked me, "What's your dream?" I answered, "I want to be a teacher."
After graduating from the university, I worked as an English teacher in a regular high school. My childhood dream has come true. Studying with young students made me feel alive and full of hope. I really like this job.
In 2004, I began to study for my master's degree, dreaming of a colorful future vibrant like rainbow. But in 2005, my left eye suddenly became blind in a week. In the following two years, the vision of my right eye grew worse and worse so that I had to draw my face very close to the books and the computer in order to read. The letters and characters on the computer screen seemed so blurred that they had to be widened and boldfaced. I could not see clearly my surroundings. I had no other choice but to face this bad situation. I managed to overcome the difficulties and finally acquired my master degree in 2007. I felt proud of myself.
Unfortunately, in 2008, my right eye became blind too. I found myself lost in a totally dark world. To make things worse, my husband soon left me, taking away my dearest daughter. It's actually a very hard time for me. During that period of time, many of my relatives, classmates, friends and colleagues gave me encouragement and comfort, which helped me soon walk out of the shadow.
I began to write articles on the computer. I like literature and writing. My writing was good when I was in school. I was thankful that some writers and editors offered me their help and instructions, which benefited me so much. Time passed quickly, it has been about three years since I became blind. Now I have published many articles on the newspapers and magazines and have become a member of Southwest City Writers Association. Besides, I teach students through the internet. It seems that life is still full of meaning.
In June this year, I met Peter, Bosco and Gloria. They are kind to me. Bosco and Gloria visited me and talked with me about my future plan, while Peter emailed some articles for me to translate, training me to be an excellent translator. I know that he wants to help more disabled people through the training. I am glad that what I have learned can be useful to others. They are the people that God specially sends to help me.
Now I am editing a book about some famous blind people all over the world. As we all know, a fine example has boundless power. This kind of book will be instructive to the readers, especially to the young blind people. I am searching materials about these people. If you have these kinds of materials, can you contact me? I will be very thankful. In addition, I hope that there will be more opportunities for me to train my English skill so as to Improve my translation. I always think that although I cannot see the colorful world, I cannot confine my heart to the dark as well. It seems that there is a light in your heart if you have a dream and you will not lose your direction. Keep up and I believe that one day the dream will go through the darkness and fly over the rainbow.
There is a saying that says:"Man proposes, god disposes." I will try my best to fulfill my rainbow dream. Please pray for me.