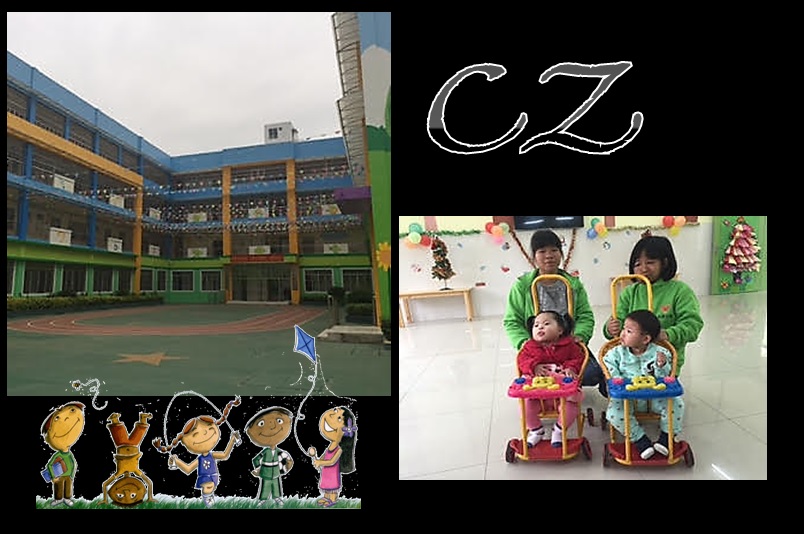 CZ is a new development area in southern China. Since the province is adjacent to Vietnam, trade with the neighboring country is a major financial development project there. CZ does not produce much. A lot of staple foods and general daily necessities are supplied by adjacent cities. General wages are low and price of goods are high due to additional transportation fees. The living standard for many people there is low. As such, some people may feel that CZ is a miserable city to live in.
However, on this piece of land, one of the first "Government built and civilian operated" orphanages in China came on the stage quietly last year.
Before arriving at these four acres, total area of 4300 square meter facility which costed 1.5 million USD, my understanding of this orphanage was based on some objective reports: This is a comprehensive children's welfare center which provides foster, education, rehabilitation and special education. Its main responsibilities are raising and educating children of 0–18 years old who are homeless, handicapped orphans without a source of income, abandoned babies, waifs and strays within the city limit. It provides temporary housing for combating trafficking of children, rehabilitation and special education services for handicapped children. It organizes domestic adoption for the orphans, protects legal rights and interests of the orphans and helps them to integrate into homes and society.
A day in Chongzuo Orphanage
Our car slowly entered Shansau Road and stopped in front of a four storied colorfully painted building. After a long and arduous journey, we finally arrived our destination. My heart was touched even when I stood in front of the building with a bright and clean playground. My feelings were so surreal as if I were in a dream …
Essentially, love is not only about feelings, it is a choice with its own purpose. I clearly knew that my visit to the orphanage on that special day was supported by many who have the same love and care for the children there.
Shortly, I found myself surrounded by a group of smiling children. What a special group of children! From their faces, speeches, physical conditions, and difficulties in movements, I realized they have various types and levels of disabilities. Amazing enough, I also saw their vitality and potential at the same time! Pure joy and lively hope was spontaneously blooming out from their lives. In fact, from the disabled, I found perfection; through brokenness, I still saw the real beauty of God.
It turned out that deep down in their heart there is a song which expressed their hope and
dream:
I long for friendly eye contacts, not the surprised ones
I long for kind words, not just sympathy
I long for supporting hands, not merely showing pity on me
I long for love, peace, and hope, just the same as what you would long for
So, please see me like how you see yourself
As I won't abandon myself and give up on my future
So, I hope you are just like me
Please do not abandon me, do not give up on the future
Please join me to pursue our dreams and change the future
My dear friends, brothers and sisters, Rainbow Missions sincerely invites you to join us, through friendly eye contact, kind words, and a pair of supporting hands to deliver love and hope to children with disabilities and their families in rural China. Let's pursue the dreams with them and change the future together!
We are going to CZ for one week to service these disabled children from April 9th to 15th, if you would like to join us, please email us at kerywong@therainbows.org for application form.
追求夢想 — 改變未來
CZ位於中國南部的新發展區。由於該省與越南接壤,與鄰國的貿易是其經濟發展的其中一個主要項目。
遺憾的是CZ本身沒有什麼出產,很多東西,包括主要糧食與一般日常生活用品都要靠附近地區的供應。於是,在這地區,本來一般工資已經偏低,無奈物價卻又因為加上運費而比別的城市高,居民在那裡的生活就較為貧困。因此,就客觀的生存條件上看,有些人會覺得CZ是一個悲情城市。
然而,就在這樣的一塊土地上,作為首批「公建民營」之一的一所兒童福利院卻於去年夏天悄然登場。
還沒有到達這所佔地四畝,建築面積4300平方米,縂投資約一百五十萬美元的兒童福利院之前,對它的認識,只是從一些客觀的報導:這是一所集撫養、教育、康復與特教於一身的綜合性兒童福利機構。主要負責所在城市行政區域內0-18歲無家可歸、無生活來源的孤殘兒童、社會棄嬰、流浪兒童的撫養教育;打拐兒童的臨時安置;為社會有需求的殘障兒童提供康復和特教服務;組織孤殘兒童國內領養、依法維護孤殘兒童的合法權益,幫助他們回歸家庭、融入社會。
在兒童福利院渡過的一天:
車子緩緩駛進山秀路,在一所五彩繽紛的四層樓建築物前面停了下來⋯⋯
經過了千山萬水,終於到達這裡。即便只是面對這樣一幢樓宇、一個整潔亮麗的體育場,心靈還是有點震撼,一種彷彿夢境成真的不真實感⋯⋯
愛,與其說是一種感覺,不如說,是一個定意的選擇。我清楚的知道,今天,自己是背負著許多人的關愛與期許到了這裡來。
沒多久,我發現自己被一群笑意盈盈的孩子簇擁著。這是一群多麼不一樣的孩子啊!從他們單純的臉上,從他們一些艱難的動作中,我看到他們各自有著不同類別不同程度的殘障。但不可思議的是,與此同時,我也看到了他們潛在的生命力,不經意地從他們純潔的心靈綻放出來的單純的快樂與活潑的盼望。
事實上,從殘缺中,我看見了完全;在破碎中,我仍然看見了上帝的真實美好。
原來,他們心中有一首歌,有一個小小的期待與夢想:
我希望一個友好的眼神,並非訝異
我希望一句溫暖的話語,並非同情
我希望一雙扶持的手,並非憐憫
我希望愛與和平,希望一切
就像你希望的那樣
所以我希望,請把我看作和你一樣
我不拋棄自己,不放棄未來
所以希望你和我一樣
不拋棄我,不放棄和我一起追求夢想、改變未來
弟兄姊妹,親愛的朋友,彩虹工程摯誠的邀請您與我們同行,繼續以一份不離不棄的執著,透過一個友好的眼神、一句溫暖的話語、一雙扶持的手,向國內的殘障兒童及家庭傳遞一份關愛;與他們一起追求夢想、改變未來。
我們定於4月9日至15日組織服務隊前往CZ一個星期,把愛和溫暖帶給這些殘障孩子,若有感動參與,請於2月25日前聯絡我們索取表格,致電郵 kerywong@therainbows.org。