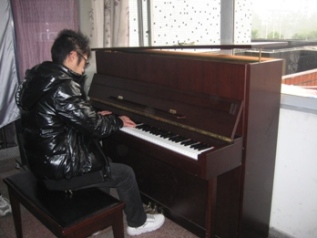 "I love music," said JH, one of the visually impaired youth in China sponsored by Rainbow Missions. "It is a gift God has given to me. My dream is to use my music and singing to thank God and bless other people."
Rainbow Connections
In 2006, Katie began sponsoring the then 15 year old JH at the Western City School for the Blind. They corresponded through letters, sent once every three months. Though JH was quite reserved at first, soon enough, he opened up and a friendship began to blossom. This connection between JH and Katie extended beyond financial sponsorship. JH noted that Katie has been his pillar of support financially, emotionally and spiritually. With each letter exchanged, JH's spirits were uplifted by Katie's love and confidence in him.
Receiving His Grace
After JH left the school to attend university, whereby Katie was no longer his sponsor, she unexpectedly received the first e-mail from him which she said "caused me to be so happy that I cried." However, after a few phone conversations, she sensed that perhaps something was wrong when finally, he spoke of the intense pain in his eyes. Katie soon contacted Rainbow Missions which then found Dr. Chin, an ophthalmologist who frequently traveled to Western City to conduct surgeries for those in need. Rainbow Missions arranged for JH to travel to Western City to have Dr. Chin examine and operate on his eyes. At the hospital, JH learned that he suffered from glaucoma and the operation to fully remove his eyes was immediately conducted. While Dr. Chin's services were complimentary for JH , Katie took care of the hospital fees and travel costs. JH expressed his thankfulness for Katie's help and that "the outcome of the surgery was very good."
At One End of the Rainbow
After JH, Katie has continued sponsoring children through Rainbow Missions. She is now sponsoring her third child. She said that she chooses to be a sponsor "because I feel called to do so. When there is a need, you are made aware of it, and are then moved by it- that is a calling." And as for JH, she still communicates with him frequently and even hopes to visit him in China one day. She explains her continued interest and involvement in his life by saying very matter-of-factly that "I have communicated with him thus long and have already established a relationship."
The Other End of the Rainbow
Pain-free and equipped with prosthetic eyes, JH is now continuing his studies in Chinese medicine at Northern City University. He describes life as well as school as "immensely good." He truly looks forward to the possibility of Katie visiting him. When asked further about their relationship, he said, "The friendship and deep connection that I share with Auntie Katie defies the boundaries of age and distance. Even though Auntie Katie's words are brief, her words of encouragement always strengthen me during critical points in my life." He adds, "No matter where I go and whether or not she continues to support me, I will always keep in touch with her."
Living His rainbow Dream
JH participated in many music performances and competitions before. He won second place in a national-wide music competition for the blind. He now plays piano and sings in churches and other occasions to bless others. He would like to learn more, but he has limited in funds, but he believes that God will provide.
Prayer
Please pray that God will open doors for JH to learn more music and have opportunities to express his music to bless more people. Rainbow Missions has found an opportunity for him to go to HK to perform in September 2011. His finance, his traveling document and his schedule can all be blockers. Let's pray that God will open doors for him to live his rainbow dream.