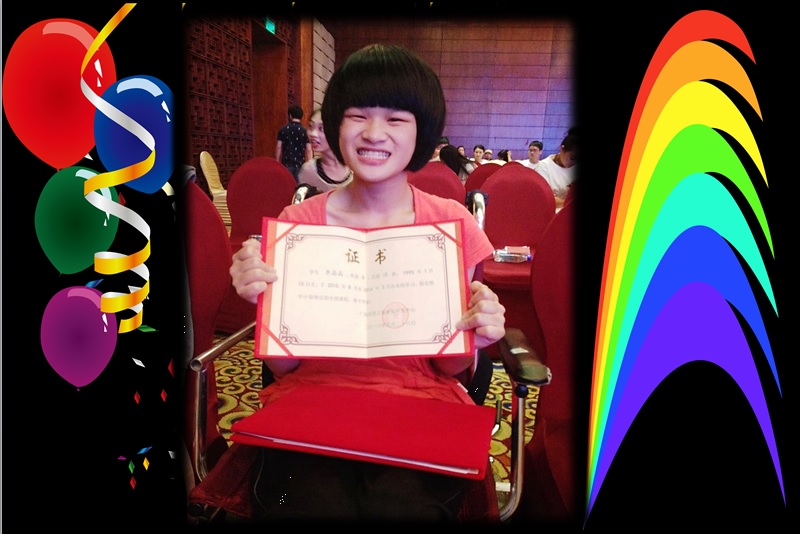 Have you read our last blog about Jing Jing? If you haven't, you may want to take a few moments to read it first. This blog is the continuing story of Jing Jing. She arrived at her destination city in Southern China and she would start a new chapter of her life in an education and rehab center specializing in children with cerebral palsy. Perhaps you wonder which city and what the name of the center is.
Life in Angel House
Jing Jing travelled in a car for 20 minutes and reached the end of the freeway that goes from Nanning Airport into the city. After the freeway toll was paid, she arrived at her new home in 5 minutes. This new home was in a residential community. It was quiet when she arrived at Angel House Youth Center because most of the students had not come back to the center yet. Only 2 students and the residence supervisor greeted Jing Jing. She settled herself down and the new chapter of her life started.
Two days later, on Sunday, most of the students came back. The students were told in advance that a new student from Chongqing was coming. The next day, school started. She was 15 years old on the very first day she sat in a classroom studying First Grade of an elementary school. She was very excited and she owned her book text books for the first time.
During weekdays, all students got up at 7:00am and had breakfast at 8:00am. They helped with cleaning after each meal. Jing Jing started her class at 9:00am. She learned Chinese, Mathematics and General Knowledge which combined science, geography, history, social studies and health. Very minimal English was taught in the school. Lunch was at 12:00noon and she took a nap afterwards. Usually Jing Jing did not sleep. School started again at 2:00pm. At 4:00pm she would have a physical therapy class. Then she took a shower before dinner. In the evening she did homework and occasionally watched television. She went to sleep at around 11:00pm.
Two years later, she started learning to cook, going to the market, house cleaning, taking public buses her own and other independent living skills. She was given an electric wheelchair if she needed to walk a long distant. She started helping out the teachers and some simple administrative work at Angel House. Last year, she was sent to another city for 2 months to learn computer skills in depth. She now can create PowerPoint slides and post articles and pictures on a website. She can organize files in the computer.
Time with friends
She had never learned Chinese characters. One month after taking Chinese classes, she sent her first text message using her cell phone with God's word to encourage us. How amazing it was that she learned so many Chinese characters and Chinese input methods on a cell phone just in one month.
It was the first time she spent mid-Autumn festival with her classmates. She sang and prayed with her teachers and classmates. They had mooncakes together. During China National Day, she spent her holiday week at Bosco and Gloria's home. They took her out to eat her first Cantonese dim sum. She played arcade games in a park. She and Bosco love fish very much and once they finished a 4 pound fish together!
Six months later during Chinese New Year, she flew on her own for the first time. She went back to the orphanage where she came from so the director and the staff knew that she had a wonderful life in Southern China. She spent time with her good friend who is blind in the orphanage. Her blind friend was also sent to a school for the blind in the main city by Rainbow Missions. The blind girl will graduate from the school for the blind next year. Since then, Jing Jing went back to the orphanage every summer to spend time with her friends in the orphanage.
Most of the teachers and classmates are her good friends because she cares about them. She helps all her classmates whenever they have needs. She sent care messages to her teachers from time to time and wanted to know that the teachers were doing well.
Challenges
In the first half year, she was very unhappy on the weekends. She is the only orphan in the school. Every Friday afternoon, parents of other classmates came to school and left with their kids. She was the only one that didn't have a parent to take her home. Many times, she went out to the courtyard, felt very sad and sometimes wept. She wanted to know why her birth parents abandoned her. She yearned for love from parents. The teachers went out to find her and talk to her. They told Jing Jing that there were so many teachers and people around her who loved her. They were just like her parents. Later, she felt better. But she said she would like to see her birth parents one day.
Do you still remember the reason why she needed the lights to be on while she was sleeping in the night? She always had bad dreams of black plastic bags carried out from the orphanage. One holiday week, she stayed at a teacher's home. The teacher told her that God protected her even when the lights were out in the evening. But that required her to pray to God and ask God to help. That evening, she voluntarily turned off the lights by herself and slept until the morning. Her fear was gone!
Her dreams
Jing Jing was baptized in 2011. She shared her testimony with her classmates who were baptized on the same day. She told them that Christ visited her 3 times while she was in the orphanage. She knew He was Christ because she asked Him his Name. In His first visit, Christ asked her to believe in Him, but she didn't. A few months later, Christ visited her again. She accepted and believed in Him. The third time when Christ visited her, she told Christ that she didn't know how to pray. Christ told her that she would know. The next morning, Jing prayed like most of the matured Christians without being taught.
Jing Jing became a devout believer. She loved reading the Bible and prayed. One time, one of her Christian teachers saw Jing Jing kneel on the floor to pray. The teacher felt ashamed and since then the teacher kneels to pray too. Jing Jing impacted the lives of a lot of people around her.
Everyone has dreams and Jing is no exception. One of her dreams is to become a pastor to serve God. It may need a miracle for a girl with cerebral palsy to become a pastor in China. She is prayerfully asking God to guide her. Another dream of hers is to open an orphanage. Jing Jing was abandoned twice and she knows what an orphan needs to face. She wants to give all the homeless children a home that has love and care and not just food and shelter. Recently she told us that she loves painting. Painting can help her to be quiet in her heart so she can listen to voices from God.
Internship and job
Angel House prepared her for independent living including job training. At the end of last year, Rainbow Missions arranged for her to intern as an administrative assistant in a special education school in a city 1 hour high speed train from Nanning. After 3 months internship, the school hired her as a full time employee to continue the job. The school provides room and board to Jing Jing. In July, she officially graduated from Angel House.
The graduation signified the temporary termination of sponsorship from Rainbow Missions. Rainbow Missions had fully sponsored Jing Jing for 6 years since September 2010 for her education, physical therapy, boarding, independent living skills, vocational training and internship. We also sponsored her pocket money when she was in the school. If she needs sponsorship again, we will continue to help. We care about her and build her up like our own daughter.
There are still a lot of challenges ahead for a girl with cerebral palsy who is only 21. But Jing Jing knows that everything is in God's hand and she has confidence in Him. We know that there will be more miracles in her life ahead.
Rainbow Missions sponsored Jing Jing to come to Seattle. She will see good friends of Rainbow Missions and all her supporters in two weeks. She will stay in Seattle until the end of October. Getting her a visa to the US is a miracle in itself. It may be once in a life time for her to visit this country. We hope she will have a good time here and enjoy every moment of her stay. If you would like to meet Jing Jing, please come to one of our fundraising dinners in October. Please call us at 206-734-7000 or email us at rainbows@therainbows.org for details.
Date of dinners
English speaking dinner: Saturday October 15, 2016
Mandarin speaking dinner: Sunday October 23, 2016
Cantonese speaking dinner: Saturday October 29, 2016.




來自中國的特別貴賓(三)
你有沒有看過我們上一期有關晶晶的博客?若你沒有,你可以想想是否先看,因為這一期的博客是延續晶晶的故事。她到中國南部,在一所專門為腦癱兒童而設的教育及康復中心開始她生命的新一頁。可能你會很想知道是那一個城市和中心的名字。
在安琪之家的生活
晶晶坐在一輛小車裡二十分鐘,便抵達高速公路的盡頭,這高速公路把南寧市中心和機場連起來。付了高速公路費用之後,不到五分鐘,她便抵達她的新家。這房子是在一個住它區裡。當她進去安琪之家青年中心的時候,裡面很清靜,因為大部份學生還沒有回來。只有兩位學生和一位舍監歡迎晶晶。晶晶安頓好之後,新的生活就開始了。
之後的星期天,大部份學生都回來了。這些學生一早已經知道會有新同學從重慶過來。星期一,學校開課了。她人生第一天坐在一個教室裡讀小學一年級課程的時候,她已經十五歲。她很興奮,她第一次擁有自己的課本。
在平常的日子,所有學生都是早上七點起床,八點吃早飯。他們在餐後要負責清潔。晶晶的課堂從九時開始,她學習語文、數學和通識,通識包括科學、地理、歷史、社會和健康教育。學校只教很少英語。中午時吃午飯,然後有午休,晶晶通常都不睡覺的。下午兩點再開始上課,四點鐘,她會有物理治療的時間,然後洗澡之後才吃晚餐。晚上的時候,她會做功課,偶爾也會看看電視,十一點左右睡覺。
過了兩年,她開始學習燒菜,上市場,在家中做清潔,自己坐公車和其他獨立生活技巧。若她需走較遠的路,中心給她一輛電動輪椅。她也開始幫助老師和安琪之家一些行政工作。去年,晶晶被送去另一個城市兩個月學習更深入的使用電腦,她現在能夠製作PPT投影片和把文章及圖片放到網站,她也懂把電腦裡的檔案組織好。
與朋友的時間
她從來沒有學過中文字,上了中文課之後一個月,她用手機發了第一個短訊給我們,用神的話語鼓勵我們。很奇妙,一個月的時間,她就學了很多中文字,也學會在手機使用中文輸入法。
第一次與同學過中秋節,她與老師和同學一起唱歌和禱告,一起吃月餅。在國慶節的一週假期,她住在Bosco和Gloria的家。他們帶她吃了她頭一次的廣東點心,她在公園玩攤位遊戲。她與Bosco都很愛吃魚,有一次他們兩個人把四磅重的魚吃光。
六個月之後是農曆新年,她第一次自己單獨坐飛機回到孤兒院,讓院長和員工知道她在中國南部的生活很好。她與多年的好朋友相聚,這好朋友是在孤兒院裡的一個失明女孩,彩虹工程後來也把這女孩送到主城的盲校讀書,她明年會在盲校畢業。自從那時候開始,晶晶每年暑假都回孤兒院與朋友在一起。
大部份老師與同學都是她的好朋友,因為她關心他們。同學有需要的時候,她會幫助他們。她經常會發短訊關心老師,要知道老師是否過得好。
挑戰
最初的半年,她每到週末就會很不開心,她是中心唯一的孤兒。每星期五下午,其他同學的父母會帶孩子回家過週末,她是沒有父母來接的。很多時候,她獨自一個人坐在中心前庭,很不開心,有時候會流淚。她希望知道為什麼她的親生父母遺棄她。她渴慕有父母愛她。老師就跑到外面去找她,跟她聊。她們告訴晶晶,很多老師和在她身旁的人都愛她,他們就好像她的父母一樣。後來,她好了一點。但晶晶說,她希望有一天能找到她的親生父母。
你還記得晶晶為什麼晚上要把燈點亮才睡覺嗎?她常常做惡夢,看見黑色的塑料袋從孤兒院拉出去。有一個假期,她住在一位老師的家,老師跟她說:『神在晚上燈關了之後仍然保護她的,但這需要她自己向神禱告去求神幫助。』那天晚上,她自願的把燈關上,睡到早上。她的恐懼離開了她。
夢想
晶晶在2011年受洗,也有很多同學在同一天受洗。她分享了她的見證。她說,當她還在孤兒院的時候,基督三次來找她,她知道祂是基督,因為她問了祂是誰。基督第一次來找她的時候,基督邀請她相信,她不願意。基督第二次來找她的時候,她相信了。基督第三次向晶晶顯現的時候,晶晶告訢祂,她不懂禱告。基督告訴她,她會懂的。早上,晶晶起來,開始禱告,就像已信主很久的人一樣禱告,她是從來沒有學過禱告的。
晶晶成為一個虔誠的信徒,她很愛讀聖經和禱告。有一次,一位基督徒的老師看見晶晶跪在地上禱告,就覺得自己很慚愧,因為她當了基督徒這麼多年,都從來沒有跪在地上禱告。從此,老師也學習跪在地上禱告。晶晶深深影響了很多她周圍的人。
每一個人都有夢想,晶晶也不例外。她其中一個夢想是當牧師服事神。一個腦癱的孩子在中國要當牧師,可能需要神蹟才可以。她虔誠的求神引導她。她第二個夢想是自己開一所孤兒院。晶晶曾兩次被遺棄,她知道一個孤兒要面對的困難。她要給沒有家的孩子一個家,這個家不是只有吃和住,更會有愛和關懷。最近,她很喜歡繪畫,她說繪畫能幫助她心裡安靜,可以聽見神對她說話。
實習與工作
安琪之家為晶晶預備她的獨立生活,包括工作培訓。去年底,彩虹工程安排晶晶去一所離南寧高鐵一小時城市的一所特教學校實習,當一位行政助理。三個月實習期完了之後,學校聘了她作全時間員工,繼續她的工作。這學校給她提供免費食宿。今年七月,晶晶在安琪之家正式畢業。
這畢業典禮標誌著彩虹工程對晶晶的資助暫時告一段落。彩虹工程從2010年九月起全費資助晶晶整整六年,為她支付教育、物理治療、住宿、獨立生活技巧、職業培訓和實習的費用。在學校時,我們也資助她的零用錢。若她將來再繼續需要資助,我們仍會幫助。我們視她作自己的女兒關心建立栽培她。
一個二十一歲的腦癱女孩前面人生的路還有很多挑戰,但晶晶知道一切都在神的手裡,而她對神很有信心。我們深信,她前面的生命將仍會有很多神蹟出現。
彩虹工程資助她前來西雅圖,她在兩星期內將會與彩虹工程的好朋友和她的支持者見面,她會停留在西雅圖直至十月底。這可能是她一生唯一的一次機會來美國。我們希望她在這裡的時間能夠過得很開心。若你希望與晶晶見面,請在十月參加我們其中一場籌款晚宴。請致電206-734-7000或電郵rainbows@therainbows.org查詢。
晚宴日期:
英語晚宴:十月十五日星期六
國語晚宴:十月二十三日星期日
粵語晚宴:十月二十九日星期六