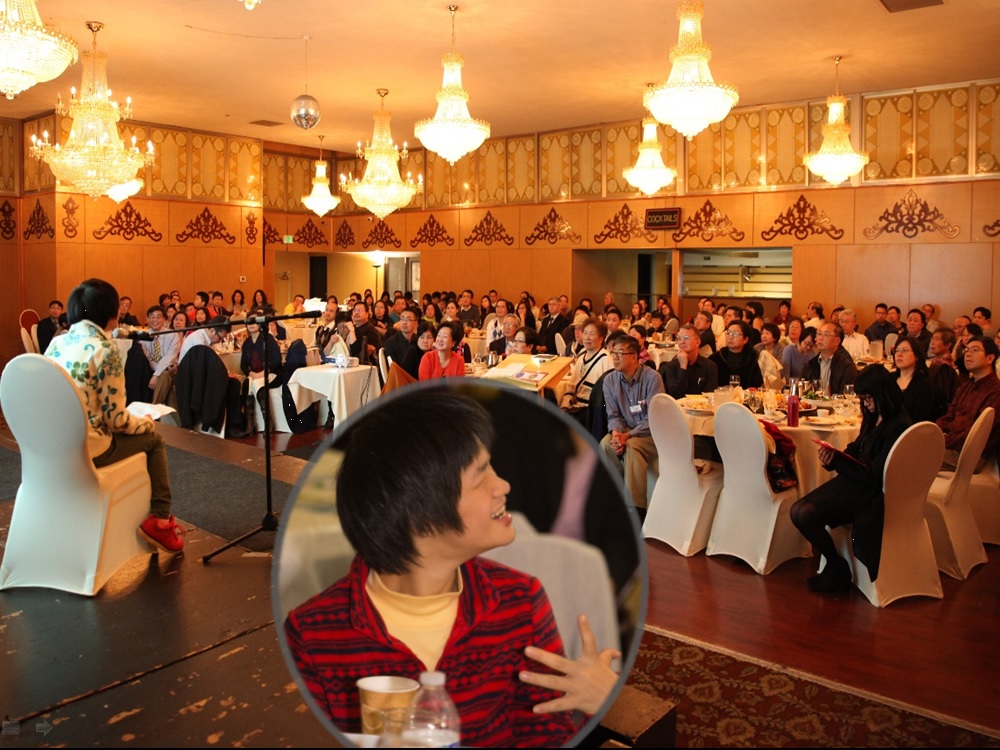 Rainbow Missions was founded in 2005. In the past 12 years, our growth and the growth of our service to disabled children in China have been inseparable. Our journal has witnessed the growth of the children we care for as well as that of Rainbow Missions.
On October 16th, 23rd, and 29th of last year we held our Annual Fundraising Dinner at Chinese Baptist Church and China Harbor Restaurant. In order to accommodate our guests, we held three separate events, one in English, one in Mandarin, and one in Cantonese. During our preparation, we ran into a few obstacles. For example, there was a storm that made us change our venue. With the help and support of our brothers and sisters and our guests, we were able to quickly move the venue of the dinner and it turned out to be a great success. In our annual fundraiser, we all looked back at our Rainbow Missions Journal which is filled with the love of the Lord and serves as a testimony of how He touches everybody.
請 按此閱讀中文版 (彩虹成長日記) .
This "dairy" took place from 2010 summer service team member, Pastor Li, and our lifetime volunteer Mrs. Chiao. They started something very meaningful. Last year, we are extremely thankful for being able to host Jing Jing, whom we've supported for the past 6 years, and Director Wang of Angel House, in the U.S., and it is a pleasure to have them come personally to share with us.
Jing Jing is a child with cerebral palsy. Abandoned by her parents, she grew up in an orphanage and didn't have the opportunity to go to school until she was 15, when she came in contact with Rainbow Missions' short term service team. Touched by her love for people and her childlike faith, we were instantly reluctant to let her continue living in the orphanage. Through overcoming some obstacles, we were able to get Jing Jing into Angel House, and there, she was able to receive education, treatment for her condition, and job and life skill training.
In the past 6 years, Jing Jing has had the opportunity to learn. She graduated last summer, began working with us, and her dream is to one day become a pastor. She wants to start an orphanage to help other children with disabilities like herself and give them a home full of warmth. Reading Jing Jing's journal, seeing her come out of a seemingly hopeless situation into a bright future, has moved us all. Thanks to the Lord and for your support we look forward to helping more children like Jing Jing on the road to a brighter future in which the door of opportunities will open for them. We want to take this opportunity to thank our guests, speakers, workers, and Rainbow Missions supporters all these years. These 3 fundraising dinners were well attended with a total of 390 people. We are very thankful for your continued support and partnership. We are grateful to God that in these three fundraising dinners, we were able to raise a total of US$70,800.
Lastly, we want to thank everyone for your prayer and financial support which not only help more disabled children but also to encourage their parents who in turn feel that this world is still filled with love and hope. We are overjoyed that these children who once received help can now offer help to others.
"A generous person will prosper; whoever refreshes others will be refreshed." -Proverbs 11:25
彩虹成長日記
彩虹工程於2005年成立。在過去的十二年中,我們的成長與我們在中國所服務的殘障孩子的成長是分不開的。我們的日記包含了我們所關愛的孩子們的成長,而他們的日記裡,也見證著彩虹工程這些年來的發展及成長。
去年十月十六日、廿三日及廿九日,我們在西雅圖華人浸信會及中國海景酒樓舉行了周年籌款晚會。為了使晚會流程更暢順,三個晚會分別以英語,國語和粵語進行。籌備期間,雖然遇到一些困難,例如因暴風需要臨時改期改場地。但我們為著弟兄弟姊妹、來賓們的不懼風雨、積極支持而深受激勵!在去年度的籌款晚會,我們一同回顧《彩虹成長日記》,其中充滿了主的恩典。祂的信實慈愛透過感人的見證分享表達無遺。
《日記》由2010年暑期服務隊隊員—利牧師,及彩虹工程的終生義工喬媽開始,我們特别感恩的是能夠邀請到《日記》中資助了6年的學生、我們的彩虹女兒—晶晶,和彩虹工程多年來在中國的合作伙伴安琪之家的王院長,蒞臨晚會分享見證。
晶晶是一位患有腦癱的孩子,被父母遺棄,在孤兒院長大,沒有上學的機會,直到她十五歲的那一年,遇見了彩虹的服務隊,我們看到她愛主愛人,並對主單純的信心,實在不願意讓她就這樣在孤兒院渡過餘生。於是排除萬難,把晶晶送到安琪之家,讓她在那裡接受教育、腦癱的復康治療、獨立生活與職前培訓。
過去六年,晶晶有學習的機會。她去年夏天畢業了,並開始了文員的工作,她的夢想是成為一位牧師,建立孤兒院,幫助其他有需要的孩子,給他們一個温暖的家。
從《日記》看到晶晶如何走出絕望的黑暗,現在得以過著彩虹般充滿色彩與盼望的生活,我們很受感動。靠主的恩典和您們的參與、支持,我們盼望可以幫助更多的「晶晶」踏上恩典之路。
我們想藉此機會,感謝晚會的各位來賓、講員、義工、彩虹工程的支持者。三次晚會中,我們共有390人出席。謝謝您們一直以來的支持愛護,與我們同工同行。感謝主,這三次晚會,我們共籌得捐款合計70,800美元。
最後,再次感謝大家在禱告和經濟上的支持,不但讓更多殘障兒童的夢想得以實現,更使他們的家長得著鼓勵,感受到這個世界仍然充滿愛和希望。當我們看到孩子們從受助到助人的心路歷程,實在得著很大的安慰與鼓舞。
「好施捨的必得豐裕,滋潤人的必得滋潤。」─箴言 11:25