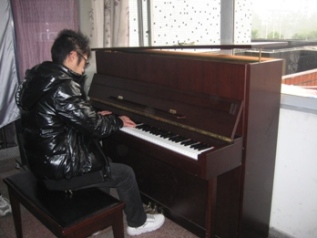 Story of LQP
I had a dream of becoming a musician or a music teacher when I was still a child, and I believed that this dream would make my life as wonderful as the seven-color rainbow. I entered the School for the Blind when I was seven years old and then began to learn vocal and instrumental music from teachers. I want to weave my rainbow dream with music.
After the 11-year-long study, in 2006, I was admitted to the Special Education College in a northern city to learn music performance. But my family could not afford the high cost of education. My family had always been poor. To make things worse, my mother got nephritic syndrome in 2005 and one of her kidneys was removed. As the hospital fees were high, we had to borrow a lot of money. This created even more hardship for us, so I wanted to drop out of school. After Mr. Zhang, a teacher in the School for the Blind, knew about these, he called Peter, the chairman of Rainbow Missions, to talk with him about my difficulties. Peter had been sponsoring me since high school. When he learned about my situation, he decided to continue sponsoring me until I finished my college study. This made me see the light of hope again.
During my college time, Peter often sent e-mails to encourage me to keep up my study, which was really heart-warming. Uncle Peter is also a blind man. He became blind at 14. After many years of endeavor, he has acquired three master's degrees, achieved great career success, and founded Rainbow Missions which engages in helping those who are disabled. His spirits and charity always uplifts me. Rainbow Missions not only supported me in finance, which helped me accomplish my study, but also, the most important, made me feel the true, the good and the beautiful of the world, and made me realize that the value of life is to give, but not just to receive.
After graduation, I came back again the School for the Blind and became a music teacher. One of my childhood dreams has finally come true. Looking back upon my past, I deeply understand the difficulties that blind children meet with while they are pursuing their studies, their dreams and pursuits. I am willing to devote myself to helping the blind children like me, and those who need help, so as to reciprocate the society and all those who have cared about and helped me.
Uncle Peter often says, "God puts every one of us in different situations. He will help those who are brave, optimistic, diligent and persistent, make their life as colorful as the rainbow." I believe it without a shadow of doubt.
Now besides teaching music at school, I write songs in my spare time. I hope that one day I can fulfill my other dream of becoming a musician, creating, making and singing my own songs. I hope that my songs will spread all over the country or even the whole world. My request is: if you have some ways to help me fulfill my rainbow dream, can you please tell me? Do pray for me.