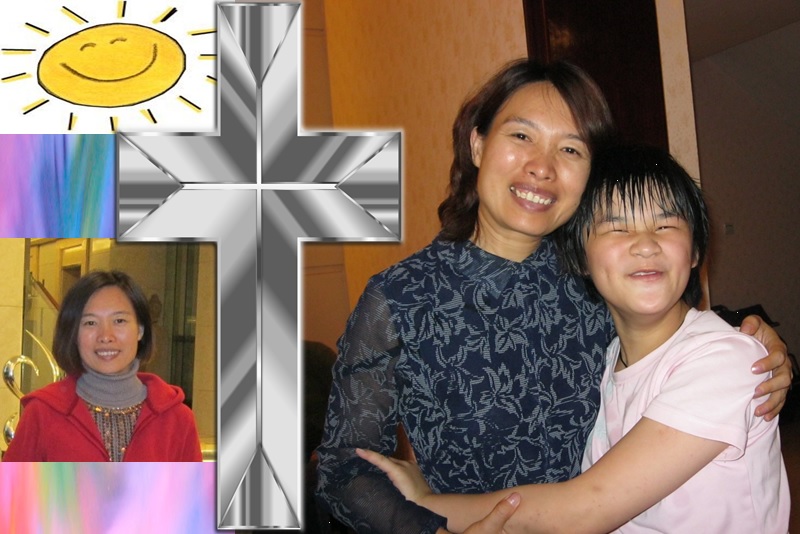 Do you know how many travelers from China are in Seattle each year? It is almost 1.2 million. This year, 2 travelers out of the 1.2 million are very special guests of Rainbow Missions. They will visit us in October and meet us at all three fundraising dinners. They are very important to Rainbow Missions. One of them has received a lot of honors from China and the United Nations.
A daughter with cerebral palsy
Kate was born in Shanxi. She went to Guangxi with her parents when she was young. She graduated from the School of Philosophy at the University of Guangxi. After she married, she gave birth to twin daughters. When the younger twin, Beibei, sat at 6 months old, the elder twin, Bobo, still couldn't lift up her head and turn from side to side. Bobo also drooled a lot of saliva. Kate, with her husband, took Bobo to the University Medical Center. The doctors examined Bobo and determined that she has cerebral palsy. Kate was very shocked and could not believe it. She took Bobo to a few hospitals for more checkups, and the conclusion was still the same.
(Note: Cerebral palsy is different levels of damage to the neurological part of the brain. It can cause barriers to cognitive development and physical growth. In many cases, it affects the ability of the brain system to control the movement of the muscles. Very often cerebral palsy leads to multiple disabilities. Physical therapy may improve the movement of the muscles, but cerebral palsy is not curable.)
Kate's Struggles
In the early days, Kate carried her children and cried. "Heartache" is not an adjective. It was a physical phenomenon to her. She thought about what could happen when Bobo grows up. She once said to God, "You have given me an extremely difficult question. I don't have any way to face it."
Both she and her husband provided all treatments that were available to Bobo, including injecting cerebrolysin, hyperbaric oxygen, Chinese medicinal herbs, massage, acupuncture and surgery. Results showed that situations had improved a little bit, but far from their expectations. Bobo still couldn't stand and walk at the age of six.
When a family has a child with cerebral palsy, the parents may have a lot of arguments about the child's medical and living issues. Husband and wife relationship can become critical. Eventually,, Kate and her husband separated. It left only Kate's parents to support and encourage her. Bobo and Beibei became her mental support to live and fight for them.
Angel House
When Beibei started going to school, Kate searched through the country and couldn't find a school for Bobo. Children with cerebral palsy usually receive medical treatment at hospitals and therapy at rehab centers. These families did not have much hope for their children because there were no resources to help them at that time. Kate felt the urgent needs of establishing an organization so that children can receive education as well as treatment. After help from many government officials, Angel House Rehab and Education Center (aka Angel House) was established on June 1, 2002. It is a civilian charity organization. On that day, there were 3 children with cerebral palsy and 5 staffs in Angel House.
In the past 14 years, Kate has served children with cerebral palsy with all her efforts. She awakens the society to care about children with cerebral palsy in China. Her hardworking helped Angel House to divide into four departments today. They are The Children Center, The Youth Center, the Community Services Center and the very first government orphanage run by a civil organization. The orphanage was just opened June 1st this year at Chongzou. Angel House Cerebral Palsy Children Rehab and Education Relief Program is recognized by the public as "People care the most" and becomes "The Top Ten Charity Program". Kate also initiated the establishment of "China Cerebral Palsy Rehab Organization League".
Awards
Since 2004, Kate has received the following honors, "The First 100 Outstanding Mother in China", "Top Ten Outstanding Woman at Guangxi", "Top Ten Citizen of Nanning City". She was one of the torch runners for the 2008 Beijing Olympic Games. September 15 the same year, she was honored by the United Nations "Outstanding Offering to Serve People with Disabilities". This is the highest honor that the United Nations' China Office can grant to Chinese citizens. Only 5 people have been given this honor and Kate is one of them. In 2012, Kate was honored "The Most Loving and Caring Model" of the "China Charity Award". In 2015, Kate was honored "China Outstanding Social Worker". The same year, Kate and her second husband Mr. Lu Jiang Li were honored "The Most Beautiful Family in China".
Rainbow Missions and Angel House
We met Kate in 2004, at the dawn of the establishment of Rainbow Missions. In 2007, Rainbow Missions started planning the establishment of the Hong Kong Branch. Peter and Bosco made an exploratory trip to Angel House to understand their needs. They prayed with Kate and understood that the partnership of Rainbow Missions and Angel House would give big support to the children with cerebral palsy and their families. Starting in 2008, Bosco and his wife lived in Guangxi for 4 years. Angel House became the major target of the services of Rainbow Missions. Bosco, his wife and Kate became very close friends because they always met to discuss how to serve the children better. During 2011 and 2012, Rainbow Missions Hong Kong Branch gradually replaced US Rainbow Missions to serve Angel House. US Rainbow Missions continued financially to support a few needy children from Angel House.
After The Government of Chongzou and Angel House opened the civilian run orphanage this year, US Rainbow Missions decided to participate in serving the orphans and children with cerebral palsy at this orphanage. Kate will meet and speak to our guests in all the three dinners. Our English speaking fundraising dinner is on October 15. Mandarin speaking fundraising dinner is on October 23 and the Cantonese speaking fundraising dinner is on October 29. We hope you can come to one of the fundraising dinners and support God's work in the ministries of serving children with cerebral palsy and orphans.
Next week, we will introduce the other honorable guest who will come from China to Seattle to meet us at the fundraising dinners. She is a girl with cerebral palsy who Rainbow Missions had been sponsoring for 6 years.
Below website in Simplified Chinese has more stories of how Angel House was founded by Kate.
http://www.cpangel.org.cn/index.php?c=msg&id=448&
來自中國的特別嘉賓
你知道每一年有多少中國旅客前來西雅圖?差不多有一百二十萬。但在2016年,這一百二十萬人之中,有兩位是彩虹工程的嘉賓,他們將於十月到西雅圖探訪我們,並出席我們的籌款晚會,他們其中一位更是在中國並聯合國中榮獲多項榮譽獎項的女士。
生了腦癱兒
王芳女士在中國出生,年幼隨父母到廣西定居。在廣西大學畢業後,王芳留在大學工作。婚後,生有一對雙胞胎女兒。當小女兒貝貝在六個月能坐的時候,大女兒寶寶還未能抬頭和轉身,而且口水流得很厲害。王芳與丈夫急忙帶著寶寶前往醫學院作了很多檢查,得出的結論是寶寶患了腦癱。他們當時非常震驚,根本不能相信,帶寶寶走了幾所醫院,結論仍是一樣。
(註:腦癱在中國以外地方又稱為腦麻,在香港被稱為痙攣。腦癱是腦部神經曾受到不同程度的損傷,從而導致智力上和肢體上不同程度的障礙,大多會影響腦部控制肌肉的能力,是一種多重殘障,物理治療可以改善肌肉運動情況,但無法治癒。)
王芳的掙扎
在最初的日子裡,王芳只會抱着孩子哭,『心痛』對她來說不是一個形容詞,而是一種生理狀態。她想到寶寶長大以後怎麼辦?她對上帝說:你給我出的題太難了,我真的無法面對。
他們夫婦給寶寶做了他們所能找到的一切治療,如注射腦活素、高壓氧、吃中藥,按摩,針灸,還有做了手術,情况是有一些好轉,但距離他們所期待的還很遠。寶寶到了六歲還是不能獨自站立和行走。
家裡有患上腦癱的孩子,夫婦二人對如何處理孩子的醫療、生活等,產生了很多分歧,夫妻關係也開始出現問題,最後王芳與丈夫分開了,只有她自己的父母在支持和鼓勵她。
安琪之家
當貝貝開始上學的時候,王芳尋遍全國,也沒法為寶寶找到一所專門為腦癱孩童而設的學校,因為腦癱兒童都只在醫院治療和康復中心訓練。這些家庭都沒有什麼盼望,因為那時候,社會上沒有資源來幫助這些家庭。王芳感到迫切需要建立一個機構,讓孩子們在康復訓練的同時接受教育。經過不同的政府官員幫忙,安琪之家康復及教育中心(簡稱安琪之家)於2002年6月1日成立,是一所民辦公益慈善機構。初時只有三位腦癱孩子和五位員工。
十四年來,王芳不遺餘力地為腦癱孩子服務,並在全國各地喚醒大眾對腦癱孩子的關注,她的努力,使安琪之家在今天擁有四個服務部門,分別為兒童中心,青年中心,社區服務中心,和全國第一所公建民營孤兒院,這所孤兒院剛在今年6 月1日在廣西崇左市成立。安琪之家的腦癱兒童康復教育救助項目被公認為『最具人文關懷』而榮獲『中國公益項目十强』。王芳也發起組建『中國腦癱康復機構網絡聯盟』。
榮獲獎項
從2004年起,王芳連續獲得『首屆中國百名優秀母親』、『廣西十大傑出女性』、『南寧市十佳市民』等榮譽稱號。2008年王芳成為北京奥運火炬手,同年9月15日北京殘奥會期間,王芳榮獲聯合國頒發的『服務殘障人事業傑出奉獻獎』,這是聯合國駐中國辦事處能頒發給中國公民最高的榮譽,全中個只有五位人士獲得此獎項,而王芳是其中一位。2012年王女士榮獲中華慈善獎之『最具愛心慈善楷模』。2015年榮獲『中國優秀社工』,同年與他的第二任丈夫李綠江先生一起榮獲『全國最美家庭』的美譽。
彩虹工程與安琪之家
2004年,彩虹工程還未成立之前已認識王芳女士。直至2007年初,彩虹工程籌備香港分會時,Peter與Bosco特別前往廣西南寧瞭解安琪之家的需要。他們與王芳一起禱告,明白彩虹工程與安琪之家合作能對中國腦癱孩童及他們的家庭作出很大支持。2008年Bosco和他太太住在廣西的四年中,安琪之家成為彩虹工程主要的服務對象之一,也因經常與王芳為服務腦癱孩童一起努力,大家成為要好的朋友。2011年至2012年,彩虹工程對安琪之家的大部份服務都交由彩虹工程香港分會接手,但美國彩虹工程每年仍繼續在經濟上資助幾位安琪之家的孩子接受康復和教育。
今年,安琪之家與崇左市政府成立了全中國第一所公建民營的孤兒院,安琪之家邀請美國彩虹工程參與殘障兒童和孤兒的服務。王芳女士將於今年十月出席彩虹工程全部三場籌款晚宴,英語籌款晚宴將於十月十五日星期六舉行,國語籌款晚宴在十月二十三日星期日,廣東話籌款晚宴在十月二十九日星期六,盼望大家能到來參加今年的籌款晚宴,支持在中國的腦癱孩童和孤兒服務事工。
我們將會在下一週介紹另一位將於十月從中國前來出席彩虹工程籌款晚宴的嘉賓,她是一位彩虹工程資助了六年的腦癱孤兒。
有關王芳女士創辦安琪之家的詳情,可瀏覽以下網頁:
http://www.cpangel.org.cn/index.php?c=msg&id=448&