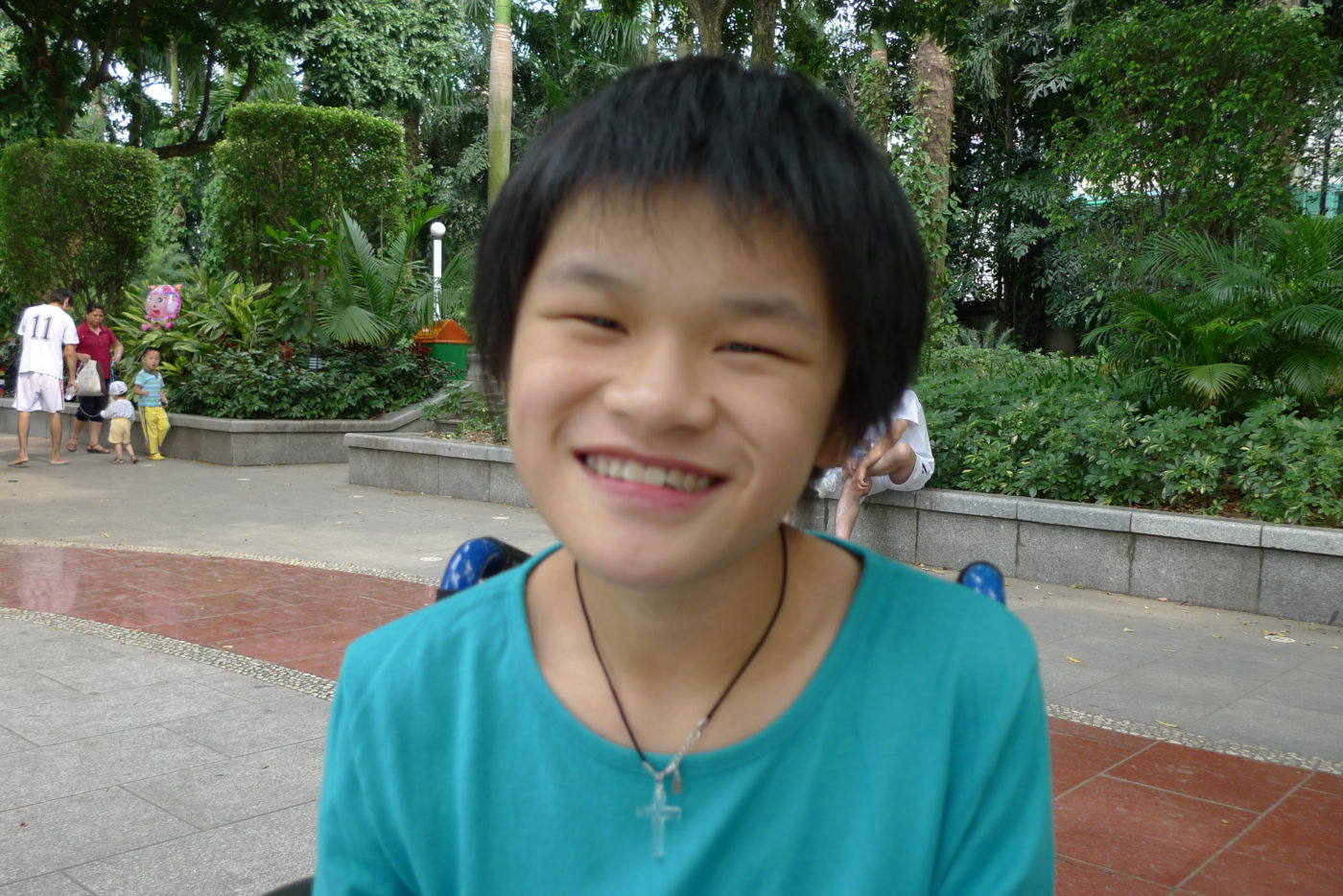 Have you ever thought what the life of an orphan in China is? How about if the orphan has some kind of disability? Last week, we talked about Kate, a special guest who has got a lot of honors from the Chinese Government and the United Nations. This week, we are going to talk about a special girl who will meet and speak to the guests at our fundraising dinners in October. She is an orphan with cerebral palsy. She has been fully sponsored by Rainbow Missions to receive education, room and board, therapies, vocational and independent living skills training for 6 years.
From Birth to Orphanage
Jing Jing can only tell us what she was told by her foster parents when she was very small. She remembers that very likely, she was born at a residence in Guangdong Province. She was abandoned within hours after her birth because the foster parents who picked her up still saw the umbilical cord attached to her body. The couple found her lying on a bridge wrapped with blankets. It must have been winter. Her foster parents told her that her birthday was January 10, 1995.
The foster parents brought her to a village in Chongqing shortly after. They operated a passenger boat and a small boat. Jing Jing was raised in a village house with grand-mother who was the mother of the foster mom. The foster parents were very busy in the river.
One day, when Jing was 5 years old, she fell off her bed. The foster parents sent her to a hospital for medical examinations. She was found to have poliomyelitis. One dark night, they left her at the gate of an orphanage. In the morning when the staff of the orphanage went to work, they took her into the institute.
Life in the Orphanage
In the orphanage, she was given the name Jing Jing Li. Jing Jing started a new life there. She adapted to the daily routines of the orphanage in a very short time. The healthy school age children went to the nearby elementary school happily to study. Jing Jing didn't go because she couldn't walk very well. One of her best friends in the orphanage didn't go to school either, because she was blind. The orphanage provided no transportation. Jing Jing could not ride a public bus on her own. Every day, she longed for the school children to come back to the orphanage. She asked them to teach her what they had learned in school that day. Going to school was only an unreachable dream to Jing Jing.
While the school kids were out during day time, she played with the toddlers and fed them during meal time. The kitchen workers laid the meals on the small tables and walked away. They would come back half an hour later to collect their bowls regardless if they ate or not, or how much they ate. So Jing Jing fed the toddlers before their meals were collected. Jing Jing has a very kind heart.
During the first couple of months at the orphanage, Jing Jing would see two familiar faces standing outside the gate looking in. It seems that they were looking for someone. Later, Jing Jing didn't see them anymore. When she was young at the orphanage, she saw many babies come into the orphanage and many others left because they were adopted or fostered. But the scariest to her was seeing black plastic bags which carried babies. Someone came in the night with a cart and took the plastic bags away. This scene rooted in Jing Jing's mind. She often had scary dreams in the night and it disturbed her for more than 10 years. She needed to have the lights turned on at night.
An American lady (Mary, a fake name we give her) always went to visit the orphanage. She played with the children. Sometimes she came with a group of foreigners. Mary became a good friend of Jing Jing. There were also full time local volunteers working at the orphanage. Jing Jing heard about the gospel through the volunteers.
See the Rainbow
December, 2009, Mary arranged for Peter, Bosco and Roland to visit the orphanage. While Peter chatted with the blind girl at the courtyard, Bosco saw a teenaged girl looking through the windows at the staircase on the third floor. Somehow there was a very small voice in Bosco's heart telling him not to give up this teenaged girl. From one of the full time volunteers, Bosco knew that her name was Jing Jing and she had cerebral palsy. He was told that she could walk, go to bathroom and take showers all by herself. She even fed the small toddlers. Right at that time, Bosco felt that this girl was capable, but did not have a chance to go to school. He thought of an education center specializing in cerebral palsy in Southern China. He wanted to send Jing Jing there. On the way back to the main city, the visitors discussed a plan for Jing Jing. But they were not optimistic that the director of the orphanage would agree to let Jing Jing leave the institute.
In August 2010, a short-term service team was sent from Rainbow Missions to the orphanage. The team members had a very good time with the children for a week. A few members had some very special moments with Jing Jing. Bosco and Gloria shared with the team members about Rainbow Missions' plan of sending Jing Jing to an education center specializing in cerebral palsy in Southern China. We prayed together because we knew that only miracles could make things happen.
When the team finished their services at the orphanage and they were on their way back to the main city, 3 members were touched by the calling of God. They asked how much money Rainbow Missions needed initially to send Jing Jing to Southern China. They were told about USD 600.00. These 3 gentlemen took out all the cash they had in their pockets. The sum was USD 620.00. Not much more and not less, it must be God's provision! The money was used to pay for all the expenses Jing Jing would need to go to Southern China!
Going to Southern China
However, at the orphanage, the director had to take a big risk. He was allowing one of his teenaged girls to go to another part of China where his jurisdiction didn't reach. He needed to trust the strangers who took Jing Jing away. The guardians Jing Jing would need were also people he didn't know at all. Furthermore, he had to submit a request to a higher government official for approving Jing Jing's departure.
The academic term of the education center for cerebral palsy in Southern China started on September 6. Students must report to the school on September 5th. We wanted to send Jing Jing there 2 days earlier so she could slowly adapt to the new environment. There had been no news of approval from the Chongqing Government. Nevertheless, air-tickets were purchased for Jing Jing to fly to Southern China in the afternoon of September 3. By the evening of September 2, there was still no news. We prayed. The approval came the next morning. Jing Jing went to the airport with Mary. She flew the very first time in her life. Jing Jing started a new chapter of her life at the age of 15.
Story to be continued …
Jing Jing's life is full of miracles. Successfully getting a US visa for an orphan girl with cerebral palsy and no money from China itself is a miracle. We sincerely invite you to come and meet the miracle girl at one of our fundraising dinners in October. If you are interested in meeting Jing Jing at one of the fundraising dinners, please contact us at 206-734-7000 or email us at rainbows@therainbows.org for details.
Date of dinners
English speaking dinner: Saturday October 15, 2016
Mandarin speaking dinner: Sunday October 23, 2016
Cantonese speaking dinner: Saturday October 29, 2016.




來自中國的特別貴賓(二)
你有沒有想過中國的孤兒生活會是怎樣的?特別如果那是一位殘障的孤兒。上星期,我們談及一位在中國得到很多中國政府和聯合國榮譽獎項的特別貴賓,王芳女士。 這星期。我們會介紹另外一位特別貴賓,她亦會在十月出席我們的籌款晚宴並致詞。她是一位患有腦癱的孤兒,彩虹工程過去六年全費資助她接受教育,住宿,治療,職業及獨立生活的培訓。
由出生到孤兒院
晶晶只能把養父母在她還小的時候告訴過她的事情說出來。晶晶記得,她很大可能是在廣東省的一個住宅裡出生,她出生後不到幾個小時便被遺棄在一條橋上,檢起她的養父母發現她的臍帶仍在。她躺在那裡,有毛毯包著。那一定是在冬天,因為後來他們告訴她,她的生日是1995年1月10日。
養父母不久便帶她到了重慶市的一個鄉村,他們是開船的,養父開的載客船較大,養母開的較小。晶晶住在農村的房子裡,由外祖母帶著。養父母則每天忙於開船。
晶晶五歲的一天,她從床上踤下來,養父母急忙送她到醫院做檢查,醫生說她患上小兒麻痺症。過了不久,在一個漆黑的晚上,他們把晶晶遺棄在一所孤兒院的門外。到了早上,孤兒院的員工上班時,發現了她,把她帶進孤兒院裡。
在孤兒院的生活
孤兒院給了她一個名字―李晶晶。晶晶開始了生命的另一頁。她很快便適應了孤兒院每天的生活流程,那些身體健康又屆於入學年齡的小孩每天都快快樂樂地前往附近的小學上課,晶晶卻沒法去上學,因為她走路走得不遠。她的其中一個好朋友也沒有上學,因為她是盲的。孤兒院沒有車輛接送他們,晶晶也不能單獨坐公交車。每一天,她等候從學校回來的小朋友,請他們教她在學校學到的東西。到學校上課,對晶晶來說是一個遙遠的夢想。
每當其他小孩子在上課的時候,她就與學前年齡的孩子玩耍,看管他們,並給他們餵飯。廚房的員工只把飯菜放到小桌上便離開,他們大半個小時後回來時,不管飯菜有沒有吃,或是吃了多少,他們都會把飯菜收拾,所以晶晶就要在他們回來收拾飯菜之前餵飽那些只有一兩歲的小孩。晶晶對別人的愛心由此可見一班。
在孤兒院裡最初的幾個月,晶晶會看見一對很臉熟的夫婦,在大門外往孤兒院裡看,好像在尋找什麼的。過了一兩年之後,晶晶就沒有看見他們了。她在孤兒院見過很多嬰兒進來,也有很多被收養或是寄養而離開。但讓晶晶很恐懼的,是她經常會看到一些黑色的大塑料袋,裡面載著嬰兒,有些人晚上拿來一個手推車,把那些塑料袋帶走。這情景深深的印在晶晶的腦海裡,她晚上經常做惡夢,這困擾了她十多年。因此她晚上睡覺的時候,她總要把燈開著。
那些時候,有一位會說普通話的美國女士(瑪莉)經常到孤兒院探訪他們,她與小孩子一起玩,有時候,她也帶一些外國朋友來看他們。瑪莉成為了晶晶的好朋友。在孤兒院裡,也有一兩位當地全時間的自願者在那裡上班,晶晶就是從這些自願者那裡聽到福音的。
看見彩虹
2009年12月,Peter、Bosco和Roland透過瑪莉到了孤兒院探訪。當Peter在前庭跟一位盲童聊天的時候,Bosco看見三樓樓梯間的窗後有一位年輕的女孩,當時Bosco內心有一個微小的聲音告訴他,不要放棄這個孩子。透過一位自願者,他知道她名晶晶,並且是腦癱的,自願者還告訴他晶晶能自己走路,上廁所和洗澡,而且還給其他小孩子餵飯,但她沒法去上學。這時,Bosco感到這個女孩有能力,卻沒有機會上學,十分可惜。他同時想到中國南部一所專為腦癱孩子而設的教育中心。他想把晶晶送去那裡接受教育。在離開孤兒院的路上,他們已開始為晶晶討論一個計劃,但他們對孤兒院的院長會否贊同晶晶離開孤兒院,並不樂觀。
2010年8月,彩虹工程差派一個服務隊前往孤兒院,隊員與小孩子在那一星期都過得很開心,其中有一些隊員與晶晶更有難忘的接觸。Bosco與Gloria夫婦與隊員分享,彩虹工程計劃送晶晶到中國南部專為腦癱兒童而設的教育中心。隊員們都為這事一起禱告,因為我們知道,只有神動工,才能成事。
當服務隊工作結束,在回去的路上,三位隊員感到神的帶領,詢問彩虹工程,第一次需要繳付多少金錢,才能把晶晶送到中國南部。知道大概是600美元之後,他們就把所有帶來的現金從口袋裡拿出來,總數竟是620美元,不多不少,實在是神的供應!他們就用這些錢來支付晶晶前往中國南部的費用。
前往中國南部
但在孤兒院裡,院長要面對的是很大的責任風險,他要讓一位年輕女孩去中國的另一個省份,是他能力管治範圍以外的地方。他需要信任那些把晶晶帶走的陌生人,晶晶的監護人也是他從來不認識的,還有,他必須向政府上級申請,才能讓晶晶離開。
當時,中國南部的腦癱兒童教育中心九月六日開始新的學期,學生需要在九月五日回到學校,我們希望晶晶能夠早兩天到達,可以讓她早一點適應新環境。但重慶政府的批文仍然沒有消息。無論如何,我們都先為晶晶買了九月三日下午飛往中國南部的機票。到了九月二日晚上,還是沒有批文的消息。我們逼切禱告,政府的批文終於在九月三日早上發出!晶晶立刻與瑪莉一起前往機場,晶晶就乘坐了她一中生的第一趟飛機。晶晶當時15歲,就這樣再開始了人生的另一頁。
故事待續…
晶晶的生命充滿神蹟,能在中國成功地為一位貧窮而患上腦癱的孤兒拿到美國簽證,本身就是一個神蹟。我們誠意邀請大家在彩虹工程十月的籌款晚宴中前來與這位神蹟女孩見面。如果你有興趣與晶晶見面,請致電206-734-7000或電郵 rainbows@therainbows.org 查詢。
晚宴日期:
英語晚宴:十月十五日星期六
國語晚宴:十月二十三日星期日
粵語晚宴:十月二十九日星期六