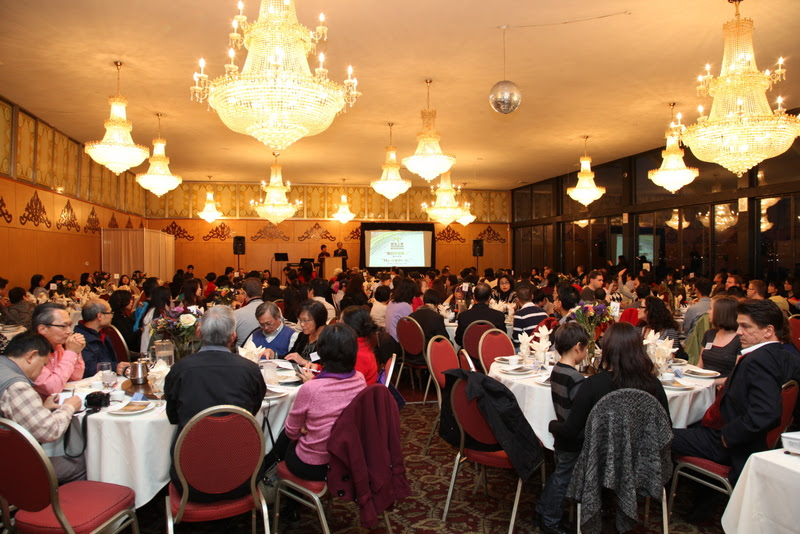 Do you know that Rainbow Missions has annual fundraising dinners in October in Seattle? Do you know how we pay the expenses of the dinner? Each year, we invite friends who have concerns for children with disabilities and orphans to sponsor the dinners. These friends are happy to sponsor one, two and even three tables.
They do their best to invite their friends to come to the fundraising dinner. If you were invited in the past, have you ever asked the person who invited you why he or she wants you to come? I truly believe that they want to introduce you to Rainbow Missions. They also hope that you will generously donate at the dinner to help the children with disabilities and orphans in China, so that they are helped physically, mentally and spiritually, and their lives are rebuilt. Since your dinner is paid for, the donation you give that evening will all be used in the ministries of Rainbow Missions. We thank you that if you were at our fundraising dinner before and make a donation. We trust that the blessings you have must be more than what you ask for.
If you came to our dinners before as guests, we encourage you to be a table sponsor this year at our fundraising dinners. We hope when you pay the dinner, you will tell your friends about Rainbow Missions and invite them to come to the dinner. We hope your friends will come to the dinner with a heart of caring for the children with disabilities and orphans and understand their needs in China.
Each year, we talk about a specific disabled child or orphan at the fundraising dinners. Do you still remember who we talked about last year? Her name is Dan Dan. Can you still remember what type of disabilities she has? Do you remember what her mother had planned to do? Do you remember how she was spared at the last minute? There is no exception this year. We will talk about an orphan with disabilities. A secret guest from China will come to our dinner. She is very important to the orphan we will talk about during the fundraising dinner this year.
There will be three dinners this year. The English speaking dinner will be on Saturday, October 15. The Mandarin speaking dinner will be on Sunday, October 23 and the Cantonese speaking dinner will be on Saturday, October 29. As in past years, we have formed a team of volunteers to plan and organize the dinners. If you have a heart for partnering with our volunteers and for making an effort for the children with disabilities and orphans in China, please register below to be a table sponsor. The fee for sponsoring a table is US$350.00. For inquiries, please email us at fundraisingdinner@therainbows.org or give us a call at 206-734-7000. Thank you!



2016 週年籌款晚宴晚餐贊助
你知道彩虹工程每年十月在西雅圖都有週年籌款晚宴嗎?你知道我們是如何繳付這些晚餐的費用嗎?每年我們都會邀請關心中國殘障孩童和孤兒的朋友贊助該晚的晚餐,他們都樂意贊助一桌、兩桌、甚至三桌,並積極邀請他們認識的朋友參加這籌款晚會。
若你曾經被邀參加這晚宴,你曾否詢問邀請你的人,為什麼他們邀請你來呢?我深信他們都希望介紹彩虹工程給你認識,還盼望你在晚宴時慷慨 解囊,奉獻金錢,來幫助這些中國的殘障孩童和孤兒,使他們的身、心、靈得到幫助,重建人生。由於你晚餐的費用已由贊助人付了,你在當晚所奉獻的金錢,都將 全數用在彩虹工程的事工上。我們感謝你曾參與我們的晚宴,並奉獻了你的金錢,我們深信你所得到的祝福,一定多於所想所求。
若你曾經參加過我們的籌款晚會,我們鼓勵你今年能成為這週年籌款晚宴的贊助人之一。我們希望你在支付餐費的同時,也向你的朋友們介紹彩虹工程,並邀請他們來這晚宴。我們希望你的朋友們能帶著關懷中國殘障孩童和孤兒的心,明白他們在中國的需要,同來出席這晚宴。
每 年籌款晚宴,我們都講述一位中國殘障孩童或孤兒的故事。你還記得去年我們介紹的是那一位小孩嗎?她的名字是丹丹,看看你還能想起她是有什麼特殊需要呢?是 否能記起她媽媽原本打算帶著她去做一件不可思義的事,但後來她懸崖勒馬的故事呢?今年我們也不例外,會介紹另一位殘障孤兒,並且會有一位從中國來的神秘嘉 賓出席我們的晚宴,這位神秘嘉賓對我們今年將會介紹的殘障孤兒是很重要的。
今年將會分開舉辦三次籌款晚宴,十月十五日星期六是英語籌款晚宴,十月二十三日星期日是普通話籌款晚宴,而十月二十九日星期六是粵語籌款晚宴。我們亦如往年般已組成了一隊籌款晚宴策劃義工。若你願意與我們這些義工同心同行,為中國的殘障孩童和孤兒出一分力,請你在下面登記成為晚餐贊助人。每一桌的贊助費用為350美元。若有任何疑問,請電郵fundraisingdinner@therainbows.org 或致電206-734-7000查詢。 謝謝!


Please fill in the form below and submit. You can sponsor more than one table or more than one dinner. Each table is US$350.00.
請填寫下列表格並提交。你可贊助多於一桌,或多於一個晚宴。每桌贊助費為 350元。
English Fundraising Dinner 英語籌款晚宴: Saturday October 15, 2016 at South Bellevue Community Center
Mandarin Fundraising Dinner 國語籌款晚宴: Sunday October 23, 2016 at China Harbor Restaurant
Cantonese Fundraising Dinner 粵語籌款晚宴: Saturday October 29, 2016 at China Harbor Restaurant

* Required
/static/forms/client/js/4044534072-formviewer_prd.js